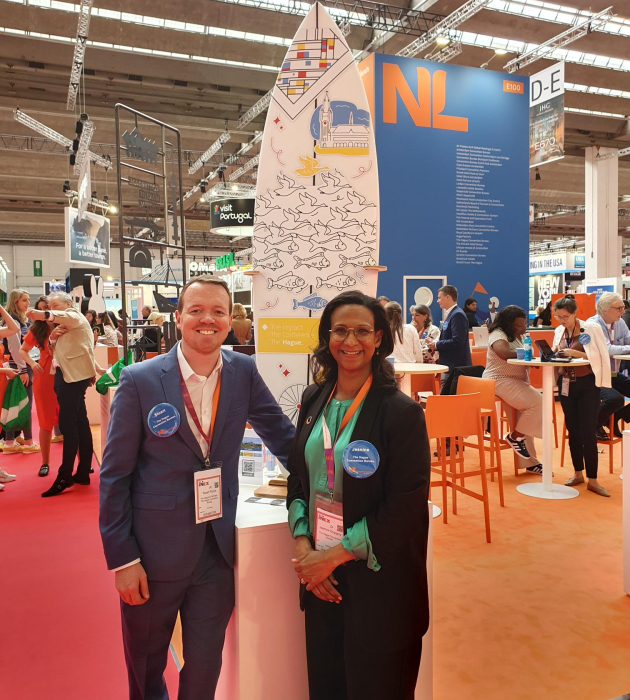 Considering Hosting an Event in The Hague? Let Us Assist You!
Welcome to The Hague – your gateway to unforgettable events in Europe. The Hague is a European hidden gem that radiates charm and flexibility. Guiding you through this experience is The Hague & Partners Convention Bureau, your partner in creating exceptional gatherings. Curious about why you should work with us? Make sure to continue reading.
Six reasons why you should pick our brains!
Free services: Our services come at no cost to you. Whether it's securing accommodations, finding a suitable event venue, or arranging for essential local services, our team is here to ensure every detail is just right for you. All free of charge.
Connected network: Our extensive network of trusted service providers ensures you are introduced to the right contacts to make your event a success.
Financial support: We know that managing event finances can be complex. In certain situations, we can assist you in obtaining funding through the Municipality of The Hague's Conference Subvention Fund, allowing your event to shine without financial stress.
Bid development, event marketing, and support: Crafting an event destination, marketing it effectively, and ensuring a seamless execution are our specialties. Our experienced team can guide you through the process, connect you with key industry players and provide insights for successful promotion.
Event Design: Under the guidance of the Event Design Collective, we can help organisers design for success using the international Event Canvas methodology. We do this in the Postillion Hotels & Convention Centre, home of the first Event Design Lab in Europe. Read more about it here.
Legacy Workshop: Our team is passionate about exploring the concept of legacy and how it can shape exceptional events. With us, you can learn all about leaving a remarkable legacy.
The Hague: Your next event destination
Now, let us explore The Hague. The international city of peace and justice is a city where you can envision strolling through charming streets, enjoying local delights at the beach and immersing yourself in the lively atmosphere.
What makes The Hague even more appealing is its great accessibility. With two international airports nearby, 5 train stations and seamless transportation within the city, you and your delegates can navigate with ease. The city's compact size ensures that everything you need is within reach. Plus, The Hague offers a unique blend of financial attractiveness and an international vibe, making it an ideal setting for your event.
Discover The Hague & Partners Convention Bureau and see how we can support you in the event process. Get in touch with us via conventionbureau@thehague.com for more information. The Hague is ready to welcome you!