How viable are the new ways of meeting
The Hague Convention Bureau moved its digital webinar content to a hybrid format for the first time on 2 July 2020 with 65 "in-person" attendees joining and 160+ online viewers.

The event explored the "viability of new meeting methods" and incorporated content such as logistical challenges as well as likely attendance levels at such events and the subsequent financial challenges faced by both organisers and the supply chain.
In particular, the event focused on:
How financially viable are hybrid or virtual meetings for clients and suppliers?
How can we ensure the ROI for delegates?
Ensuring we maintain a great event experience.
The future of event sponsorship.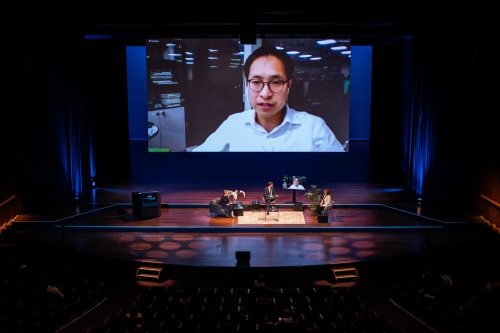 The event was moderated by Vincent Pahlplatz, General Manager at The Hague Marriott.
The panel was made up of:
Kim Myhre, CEO and Managing Partner Experience Designed
Carin Smand, Executive Director of the European Hematology Association 
Frank Yang, director, marketing & business development at KINTEX
Guillem Torres, Executive Director, Professional Congress Organizer, Torres Pardo SL
Photo credits: Holland Park Media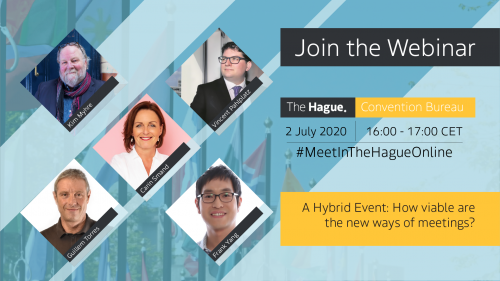 Kim Myhre talks about the event design experience

Kim Myhre, CEO and Managing Partner Experience Designed said:
"The world of online and live experiences are going to continue to merge and to morph more seamlessly together. 

Planning digital experiences or hybrid experiences does require going back to the drawing board. The human experience, whether it is on a non-digital platform or on a live platform, is still a critical factor."
Kim added that digital content is much more shareable, and the younger generations who will become association members see and experience the world through digital outlets. "Planners need to go back to the drawing board", he said, asking themselves important questions: "What am I trying to achieve? Who is the audience? What do they need from us to achieve their objectives? How do we use platforms to create those experiences? 
Obviously the audience experience is the number one important factor and I am sure that sponsors, exhibitors, organizers and venues want to make sure that their attendees are having a safe, valuable and pleasurable experience when they come together in a live or online experience. 

The new situation is a great challenge for a lot of venues but it is also a tremendous opportunity for venues. We start seeing venues not just as empty spaces but as spaces where we can create interesting compelling valuable experiences. 

Using venues in a more integrated way both across digital and live platforms makes them a more exciting place to be.

It is not about the logistics of planning an event so much as it is about the design of an event experience for our audiences and how to bring all the components of it together in a meaningful way."
Guillem Torres talks about the financial viability of hybrid events

Guillem Torres, Executive Director, Professional Congress Organizer, Torres Pardo SL, said:
Hybrid events have come to stay and are not just a passing trend.
Since the income related to on-site registrations will remain lower than pre-pandemic times, Torres said, increasing virtual audience size is of paramount importance. "The huge number of potential delegates attending virtual meetings and showing support is key in financial terms," he said. "If well-managed, the profit could be increased."

It is not only a matter of financial muscle, it is a matter of being able to re-adapt the company for the newest scenarios from 2021, with or without COVID.

Most of the events will become hybrid and new opportunities will come with no doubt and I think that's the goal for every single company.

Delegates will be really interested in attending an event if the content is outstanding.

The venue in itself could become an added value in order to avoid any kind of potential reluctance by a delegate to attend.
Carin Smand talks about the attendee journey of virtual and hybrid events

Carin Smand, Executive Director of the European Hematology Association, said:
There is another lesson we have learned from a virtual congress, and that is we can reach out to a large audience in case we schedule it in a good way.

In a virtual space, you are able to better understand what the congress platform visitors are doing and which sessions they attend. You can learn a lot from that and you can use that information in building your next virtual congress program.

By going virtual you can offer sponsors data-driven information. 

Collecting user data and transforming that into reports for the sponsors about who visited their exhibition, and at the same time being clear to the visitors in the platform that their data might be shared, is a very interesting area in such a virtual space. 

There is one lesson we have learned from the last couple of months and that is: we need to be flexible. As an association, you need to be able to anticipate changing circumstances. So, a hybrid model is probably the best way forward.

What is exactly the user journey? Because finding your way in a virtual space is very different than finding your way in a congress center. Make use of the possibility to connect. Transparency and discussion are two important instruments to craft that journey.

I think that the focus will be much more on services focused on safety, as it is the biggest service you can offer now, but also on how to make events a bit more exclusive. 
Frank Yang about the viability of virtual and hybrid events
Frank Yang, director, marketing & business development at KINTEX said:
"If you focus on getting quality content and the right speakers," Yang said. "I think people will be willing to participate in a virtual event even at a higher registration fee.
The reason hundreds of millions people watch YouTube each day is because of the content. Good content will provide more value and attract more delegates."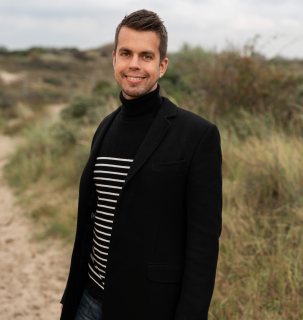 Got a question?
Did something spark your interest about our webinars? Or do you have a specific question for us? Get in touch with our marketing communications advisor at o.golubova@thehague.com.