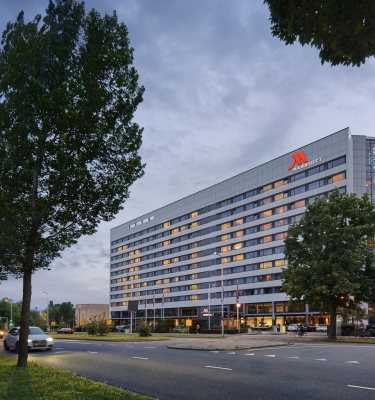 The Hague Marriott
The Hague Marriott is situated just off the city centre, a stone's throw away from Scheveningen beach. The World Forum and Kunstmuseum are located right beside the hotel.
Venue overview
Capacity

400 people

Meeting rooms

24

Largest meeting room

559M2

Venue style

Business

Layout of the room

Banquet, Cocktail, Meeting, Theatre, U-layout, Other

Type of event

Conference, Meeting, Presentation
Possibilities
Centrally located near top destinations, The Hague Marriott hotel blends modern style with a 'home away from home' comfort to exceed the expectations of discerning travelers. Most guest rooms offer skyline views of The Hague city or the North Sea coastline. You can host your company conference or business meeting here. The hotel offers 24 versatile indoor venue spaces including private garden/terrace, as well as expert planning and catering services. With the hotel's excellent location near both the city center and North Sea coast, attendees are perfectly situated to explore the Kunstmuseum, the World Forum, Scheveningen Beach and more.
Request for Proposal
Could The Hague Marriott be the venue of your next successful business event? Contact us to talk through the options!