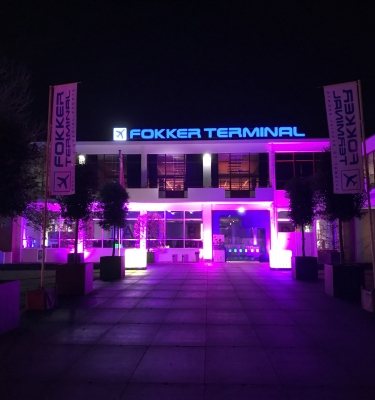 Fokker Terminal
The Fokker Terminal is a full-service conference venue housing nearby the city centre of The Hague. The venue contains a 2200 square metre aircraft hangar and 17 breakout rooms. This venue gives an industrial and impressive feeling with a striking combination of steel, glass and concrete floors. In the back of the hangar there are the seven metres high and 26 metre-wide steel doors.
Venue overview
Capacity

1000 people

Meeting rooms

17

Largest meeting room

2200M2

Venue style

Business

Layout of the room

Banquet, Cocktail, Meeting, Theatre, U-layout, Other

Type of event

Conference, Meeting, Presentation

Sustainable

yes
Webcast Studio's for virtual and hybrid meetings
The Fokker Terminal currently offers 3 webcast studios that differ in look and feel, technical options and budget. We also offer 16 breakout rooms for online workshops and/or tailor-made productions. In our two largest studio's it is also possible to welcome a live audience and scale up to hybrid events, if governmental measures allow. Our Eventmanagers love to connect with you for any advice on the most suitable solutions for your online plans. And thanks to our fiberoptic internet connection including 4G backup, we are always assured of a high quality stream.
If you don't use your own preferred streaming or broadcast partner our technical supplier AVEQ is happy to provide you with all studio equipment, but also with an online event platform including interactive tools, networking options (even in a 3D-animated world), online registration and breakout options. Design and creation of your content, for example, intro clips, bumpers and instarts are also possible.
STUDIO 1
This studio is ideal for a talkshow setting or debate setup. In this studio we offer a Full HD background projection of 8 × 2.5 m, an extensive lighting plan, multiple content screens and of course a professional camera setup. A sidekick position is also available in this studio. With this extra position you increase the dynamic flow of your broadcast by, for example, launching polls or questions toyour viewers or facilitating a keynote presentation or entertainment.

STUDIO 2
Studio 2 is our latest addition to the online family. This space measures 8 x 8 meters and is equipped for smaller webcast productions up to 3 people. It offers a presentation desk for e.g. recording of training sessions, compact interview settings or product presentations. As a background we offer a full-width stretch frame including printed canvas with a choice of 3 existing images. Of course, a custom print is also possible. This room is also equipped with all necessary studio gear such as dynamic lighting, cameras and the option of dailing in external speakers and showing presentations and / or videos.

STUDIO 3 - HANGAR
Are you looking for a studio that really makes an impact on screen? Or do you need loads of space for an extensive online program or large objects? Then choose our turn-key XL setting in studio 3. A former aircraft hangar as an impressive backdrop, including 7m high hangar doors as background. This allows you to combine many historical and industrial elements from the (aviation) history of the venue with ultramodern webcast technology. The basic setting for a talkshow or informal set-up can be extended with 1 or 2 sidekick positions for keynote presentation, extra speakers or entertainment. The basic set comes standard with several large screens for content, an extensive lighting plan, decoration and furniture. A total custom-made set, including a large custom-made decor, is also possible.
Flexibility, creativity and a personal approach
Constructed in 1959, the former school for aircraft engineering 'Anthony Fokker School' has been completely redeveloped since 2009 into a state of the art event venue.
Location
Ideally located just on the outskirts of The Hague, the political capital of the Netherlands and home to several international institutions, the city is at the industrial and business heart of the country; the so-called Randstad.  
The venue is very easy to access, Schiphol Airport (35 minutes) as well as Rotterdam The Hague Airport (15 minutes) are close by. It offers excellent parking options with direct connections onto highways to Utrecht, Rotterdam and Amsterdam.

Appearance
The building has a characteristic and industrial feel with a spacious and transparent lay out, which is emphasized by the abundance of daylight.
Housing a 2200m2 aircraft hangar, 9 meters high and with 25 meters wide steel doors, the heart of this characteristic building has a striking combination of steel, glass and concrete floors.

This space is easily divided into 2 sections with the use of a movable curtain track.

The first section serves as a welcome- and catering area with a contemporary and atmospheric feel to it, also perfectly suited to place conference partners, demo's or sponsors.

The second section can serve as a plenary room with a flexible set up ranging from 200 to 1000 seats. Having a flat floor without any obstructions or pillars, you also have great flexibility in other types of set up than theatre style.

Adjacent are another 18 former classrooms, now turnkey break out rooms for workshops and group activities. These rooms are situated directly next to the main hangar, making it very convenient and easy to navigate. The rooms range in capacity from 40 up to 250 guests.
One stop shop
Fokker Terminal offers a one-stop-shop event package, including catering, AV and furniture/decoration. Bringing your own suppliers is possible as well.
In addition to the packages, the venue offers a next level of customising the event.
How about using your client's company branding in shapes, colours or tailor made carpeting, adding custom designed screen presentations, stage design or the use of innovative AV concepts.
Best Conference Location 2018
At the Meeting Business Event, organised by trade magazine Meetings on January 21st – the Fokker Terminal has won the award of 'Best Conference Location 2018 in the West Holland Region' and the national title of the best conference venue in The Netherlands of 2018.
International focus
In addition to the growth of national conferences and business events, international organisers are increasingly opting for the Fokker Terminal. With this, the location generates an important economic spin-off for the city of The Hague. This also increases the city's reputation as a conference destination, in addition to the many hotels and the options for a city trip.
The Binckhorst Avenue
The surrounding area of the Fokker Terminal is also undergoing a rapid transformation.
The redevelopment of the district of the 'Binckhorst' is currently in full swing.
The transition from the former industrial park to a vibrant and exciting new part of The Hague will soon be visible.
The construction of the Rotterdamse Baan (direct tunnel connection between the A4 / A13 and the Binckhorst) is taking shape rapidly.
Request for Proposal
Could Fokker Terminal be the venue of your next successful business event? Contact us to talk through the options!