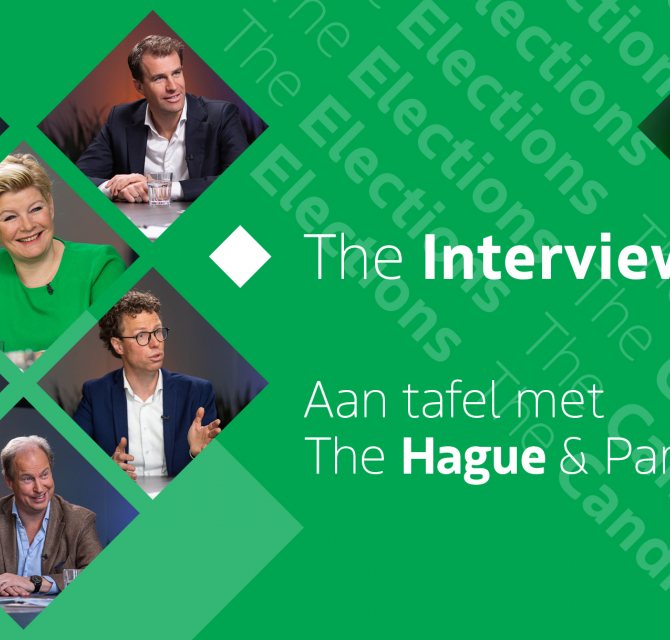 The Interview: at the table with The Hague & Partners
21 February 2022
The city council elections are just around the corner and traditionally The Hague & Partners puts a spotlight on the Hague parties. This year the spotlight does not fall on a candidate debate, but on a revealing video series entitled 'The Interview: at the table with The Hague & Partners'. Marco Esser, managing director of The Hague & Partners, interviews the candidates of the six largest parties in The Hague.
Is the PvdA not going to make more cuts in the coming period? How does the CDA intend to bring North Sea Jazz back to The Hague? And does the VVD really want to lower the property tax even further? You will discover this and much more in The Interview.
All parties that won at least three seats in the previous municipal elections in 2018 have been invited. The PvdA, CDA, VVD, GroenLinks, D66 and Hart voor Den Haag/Groep de Mos responded. In each episode, Marco Esser and his guest look back on the past four years and, based on the election programme, look ahead to the coming period.
Every Thursday and Tuesday a new video will appear online at 11.00 am, according to the following schedule. You can watch the various episodes of The Interview: at the table with The Hague & Partners here. The interviews are unfortunately only available in Dutch.
Thursday 17 February, PvdA - Martijn Balster 
Tuesday 22 February, CDA - Hilbert Bredemeijer 
Thursday 24 February, VVD - Anne Mulder 
Tuesday 1 March, GroenLinks - Mariëlle Vavier 
Thursday 3 March, D66 - Robert van Asten 
Tuesday 8 March, Groep de Mos - Richard de Mos