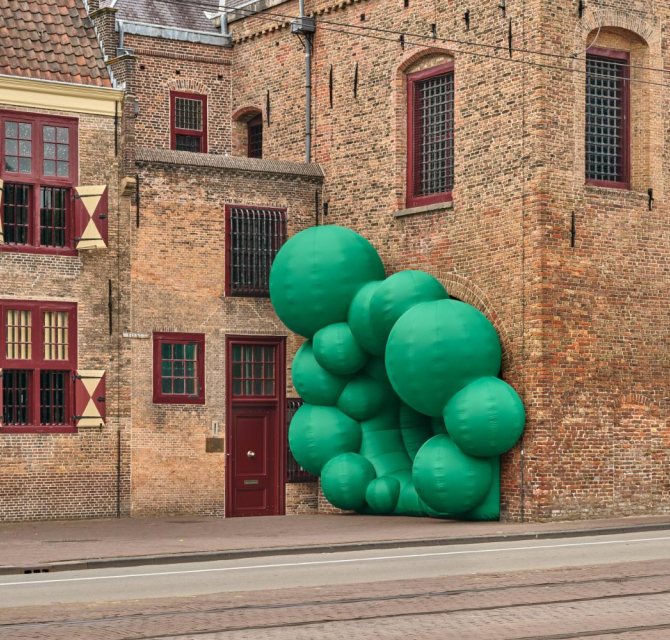 No air castles but giant BlowUp Art in Museumkwartier The Hague
27 September 2022
Five enormous BlowUp objects will breathe new life into the experience of downtown The Hague in the coming weeks. Museum de Gevangenpoort, the shell path along the Hofvijver, the Koninklijke Schouwburg, the Schoorsteenvegerstraat and the statue of Willem van Oranje on the Plein.... we often walk almost carelessly past the many monumental sites that the city center of The Hague has to offer. But that is about to change in the coming weeks.
Colorful, grand and movable: five inflatable artworks add spectacular, temporary forms to monuments, statues and other sites of yesteryear. Through these colorful and sometimes funny interventions, you suddenly experience those everyday things as if they were new. This will not only be a feast for the residents of The Hague itself but also for people from outside the city! The artworks are part of a walking route around the Binnenhof in Museumkwartier. Free entrance for young and old until Thursday, October 13 (also in the evening)!  
Walking through art
All objects are "site specific," meaning that they were made especially for these specific places. A selection of internationally working artists, including some from The Hague itself, are responsible for the BlowUp Art. The temporary interventions in public space by Steve Messam (United Kingdom), Marleen Sleeuwits (The Hague), Adrianus Kundert (Berlin) and Larissa Ambachtsheer (The Hague) put the familiar surroundings in a new light. Thus Steve Messam transforms the harshness of the Gevangenpoort into a joyful bubbling embrace. A place through which visitors can walk via a wooden bridge laid in the underpass. 
Colorful contrast
Marleen Sleeuwits cycled for days through The Hague to photograph columns. She added that collection in all sorts of sizes and colors to the forecourt of the Royal Theater. Larissa Ambachtsheer's intervention in the Schoorsteenvegersstraat (next to Pulchri Studio) forms a striking colorful contrast to the stateliness of the Lange Voorhout.  
BinnenhofBuiten
BlowUp Art The Hague is a production of BinnenhofBuiten, a project of The Hague & Partners. BinnenhofBuiten organizes events and activities during the renovation of the Binnenhof.