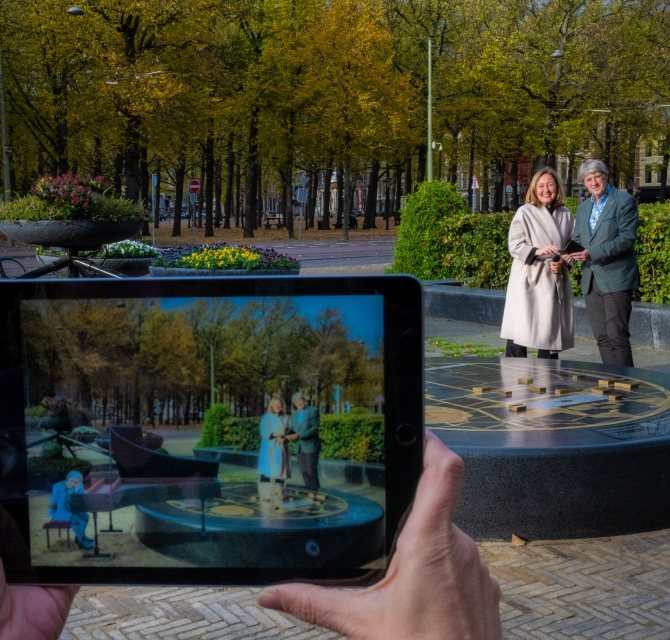 Alderman Bruines and Stichting Museumkwartier Den Haag launch Augmented Reality route in The Hague city centre
26 October 2021
The Hague - 26 October 2021 - Fascinating stories and amusing scenes from the rich past come together with modern technology in a new Augmented Reality Route in the Museum Quarter in The Hague. Today, alderman Saskia Bruines and Tjeerd Vrij of Stichting Museumkwartier Den Haag 'unveiled' the large Seal Stone on Toernooiveld, marking the official start of this special historical discovery in the city centre of The Hague. The signet stone is the starting point of the route along eleven locations, each telling its own story after scanning the QR code.
Under the motto 'Meet old masters and new heroes, follow in their footsteps and take pictures with them', everyone can walk the AR-route Museumkwartier. On the facades of 11 cultural institutions are striking Museumkwartier seals with a QR code. When you scan the code with your smartphone, you discover how a person (or object) has contributed to the Museum District in The Hague. As a special gimmick you can even have your picture taken with the main characters. There are 'encounters' with the young Mozart, the Glass Coach and architect Marcel Breuer. The AR route is free of charge.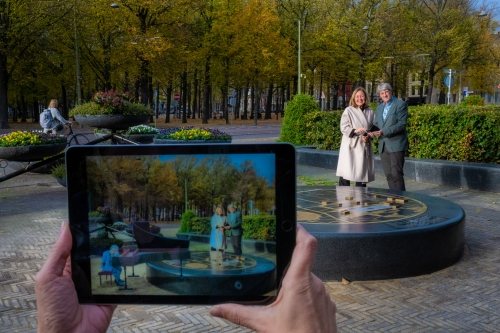 Photo caption: Alderman Saskia Bruines and Tjeerd Vrij (Stichting Museumkwartier Den Haag) take a picture with Mozart and give the go-ahead for the new Augmented Reality route in the Museum Quarter in The Hague.
Rich diversity Museum District The Hague
The new AR route in the historic city centre of The Hague is one of the initiatives of Stichting Museumkwartier and the municipality of The Hague. Alderman Bruines: "The Museum Quarter is extremely important for the attractiveness of our city centre. The AR route and the signpost unveiled today contribute to the liveliness and familiarity of the area. I hope that people visiting our city will be able to find their way to the Museum Quarter."
Cultural hotspot
The Hague is working hard to put the Museum Quarter emphatically on the map in the coming years and to promote it as a cultural hotspot. This will happen with numerous new initiatives and activities. The AR route is a fine example of cultural cross-pollination. A number of other activities will be launched in the coming months. Earlier this year, the Stichting Museumkwartier Den Haag was established, in which 10 renowned institutions and locations are represented. 
The AR route has been developed by Tjep & Studio Louter in collaboration with the municipality of The Hague and The Hague & Partners.
About the Museum Quarter The Hague
Stichting Museumkwartier Den Haag is a partnership of the cultural organisations located around Lange Voorhout, Toernooiveld and Binnenhof. The foundation was established in 2021 to develop the Museum Quarter The Hague in the coming years. These are: the Mauritshuis (with Gallery Prince William V), Escher in het Paleis, the Hague Historical Museum with the Prison Gate, Museum Bredius, the National Theatre, Diligentia, Theatre PePijn, Kloosterkerk, Pulchri Studio, West The Hague and Anna Vastgoed & Cultuur.