The Hague Convention Bureau webinar #1
In the first episode on April 9, 2020, we have talked about the outlook on the meetings industry and shared the best practices during and post Covid-19 disruption.

💻 Watch the webinar recording
⏩ Q&A BONUSES - brought to you by our panelists:
Ping Liu, Founder China Star Ltd. and SITE China President, Beijing, China, answers some questions in a recorded video format.
Mathias Posch, Chairman & Partner at ICS and IAPCO Immediate Past President, Singapore, answers some questions from the Q&A in writing
The Hague Convention Bureau presented viewpoints from all over the world

The aim of this webinar was to learn about what can we as a meetings industry do and expect due to Covid-19: 
Advice from our peers in different continents dealing with the situation.

What can we learn and adopt from them (best practices) in order to get back on our feet as soon as possible after the virus is contained.
The live-streamed webinar about "What can the global meetings industry do and expect due to Covid-19?" was moderated by Michiel Middendorf, General Manager World Forum The Hague, the Netherlands. 
The panellists were:
Bas Schot, Head of The Hague Convention Bureau said: "The Hague has a global reputation as a centre of learning with a significant knowledge economy. We have recently been running the face to face HagueTalks events together with partners, focused on hard hitting topics and content, with leading subject matter experts. The initiative was a huge success and we wanted to find a way to maintain the debates and extend it across digital platforms throughout the COVID-19 crisis, by launching a series of webinars in which we are addressing the current pressing matters that arose due to the disruption, share best practices from industry experts and provide with concrete advice."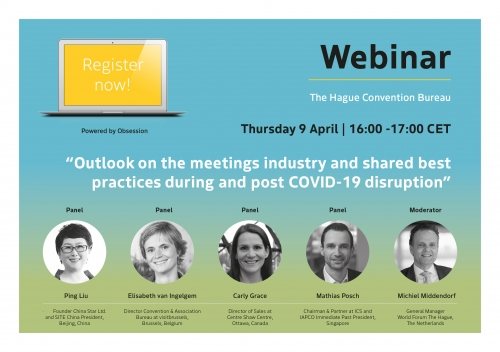 About the moderator
Michiel Middendorf, General Manager World Forum The Hague:
Michiel's career has been hospitality industry driven for over 40 years in The Netherlands, USA and Spain. He was with Marriott Hotels, Hard Rock Cafe and TGI Fridays and worked in destination management and conference management for the last 14 years. 
Michiel is an active member of the Economic Board of the City of The Hague and Vice-President of the Partners in Tourism association of the same city. He is currently General Manager of World Forum The Hague, an international conference center known for its high level and highly secured events. 
About the speakers
👩🏻‍💻 Ping Liu, Founder China Star Ltd. and SITE China President, Beijing, China
With more than twenty years' experience in the industry of meeting, incentive travel, conference and event (MICE), Liu Ping is the founder of China Star, a Professional Conference Organizer and a Destination Management Company. She is active in several international industry associations such as Society for Incentive Travel Excellence (SITE), Meeting Professionals International (MPI), International Congress and Convention Association (ICCA) and International Association of PCO (IAPCO). She was the first international board director of SITE (2008-2014) from mainland China and is one of the founders of World PCO Alliance (WPCOA). Liu Ping is highly recognized in MICE industry global-wide and received Frankfurt IMEX Academy Award in 2009. In China Meetings Industry Convention 2017, Liu Ping was named, as one of the first five Chinese meeting professionals, in the China Meetings Hall of Fame.
👩‍💻 Elisabeth Van Ingelgem, Director Convention & Association Bureau at visitbrussels and Chairperson ICCA France Benelux Chapter, Brussels, Belgium
Elisabeth has developed a close understanding of the needs of international meeting planners during the 8 years she has worked for visit.brussels. From 2007 to 2010 she was responsible for assisting International Associations in the organization of their congresses and meetings in Brussels. The services offered by the Convention Bureau include support in the planning and bidding process, requesting support from relevant politicians and authorities in Brussels, providing information about potential local suppliers and offering a welcome service package for congresses and fairs. Since 2010 Elisabeth has taken over the management of the Meetings & Conventions Team and more recently, has been appointed Director of the Brussels Association & Convention Bureau.
👩‍💻 Carly Grace, Director of Sales at Centre Shaw Centre, Ottawa, ON Canada
Carly's impressive career in the hospitality industry began upon her graduation from Queen's University when she relocated from Ontario to British Columbia to work for the prestigious Westin Resort & Spa, Whistler. While developing her career at The Westin, Carly continued her education, completing her Master of Business Administration (MBA) through Guelph University. Following the completion of her MBA, Carly was offered a position with Vancouver Organizing Committee during the 2010 Olympic Games. Upon the completion of the Games, Carly came back east, to Ottawa, Ontario to be closer to her family and quickly re-established her place within the hospitality sector with The Westin Ottawa. While at The Westin, she held multiple positions, working her way up to Director of Events. In December 2019, Carly accepted her role with The Shaw Centre as Director of Sales; an opportunity that has allowed her to revitalize her destination sell and put into practice her teambuilding expertise and her dedication to exceeding client expectations. In her spare time, she enjoys swimming and spending quality time with her family and friends.
👨🏻‍💻 Mathias Posch, Chairman & Partner at ICS and IAPCO Immediate Past President, Singapore
Mathias Posch is Chairman and President of International Conference Services (ICS). With its Headquarters in Vancouver, Canada and branch offices in Toronto, Denver, London, Vienna, Barcelona, Singapore and Tokyo, the company manages conferences around the globe – in 38 countries on 6 continents thus far. Mathias is President of IAPCO and as such leads the organisation's expansion and outreach programme. He is a respected industry expert and has been invited to speak at numerous international and national conferences around the globe. Further he also serves on a number of Advisory Boards and consults international scientific and medical associations on their global strategy.