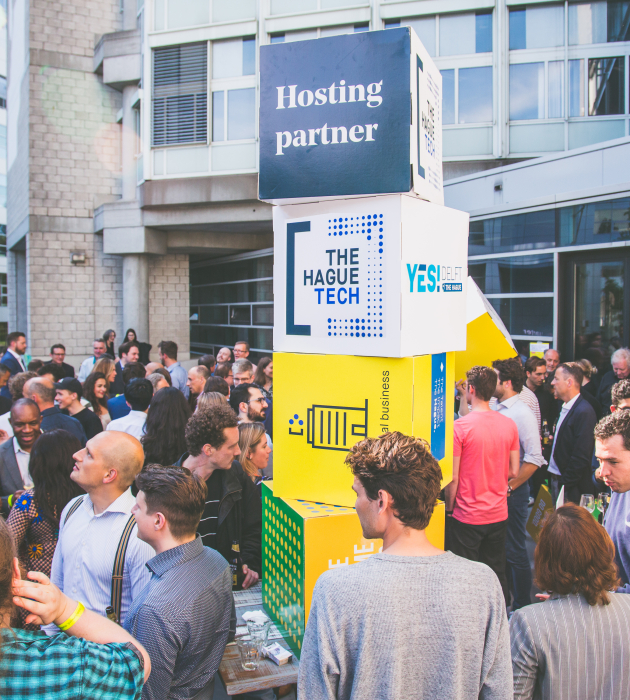 Welcome to The Hague Tech
The Hague Tech- a co-working hub, meetingcentre and eventlocation located in the heart of The Hague. 
Are you looking for an inspiring location to host your event, meeting or webinar? The Hague Tech offers multiple events spaces and meeting rooms perfect for hosting meetings, lectures, workshops, trainings, borrels and even dinners. Within their hub an in-house STUD-iO offers you all facilities and services your need to host your podcasts, webinars, or hybrid event.
A hub with a lot of expertise.
With all kind of experts on location, think of a caterer, various skilled photographers, expert speakers and a hospitable events-team, The Hague Tech will make sure your event will be a success. The Hague Tech has extensive experience with hosting and organizing recurring events and programs. In 2021 The Hague Tech hosted fot instance; Hackathon for Good, Dexterity Club, DTFA by Envision, GovTech closing drinks, Futureproof, and the Start-Up Club. 
Interested to host your meeting or event at The Hague Tech? 
Feel free to visit the hub for a coffee with The Hague Tech's Event Manager! Check out the event facilities, meet our forward-looking community and get a taste of the innovative atmosphere. You can get in contact via events@thehaguetech.com or check out the website: https://www.thehaguetech.com/meetingrooms.