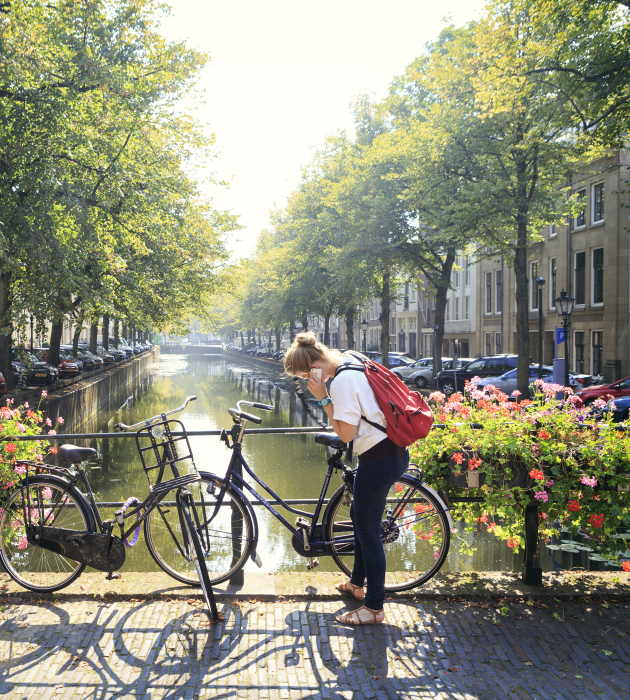 Cycle your way through The Hague
There is a reason why the Netherlands is known as a cycling country. The country has safe, comfortable and flat bike paths and you can cycle from one landscape to another. Curious about some cycling facts about The Hague? Make sure to continue reading!
Learn more about sustainability in The Hague
1. Bike paths
According to the municipality, there are currently over 260 kilometres of bike paths in and around The Hague. That is more than the distance from The Hague to the most northern part of the Netherlands, Groningen. So in case you are visiting The Hague for an event, make sure to book another two days in the city... it will take you approximately 22 hours... without breaks...
2. Cycling across the city
Cycling across the city will only take you around 45 minutes. The Hague is a compact city and this makes walking to most places a viable and enjoyable option too. On foot, you can reach the beach from the city centre in under an hour. To the surprise of many visitors, going from the city centre to the beach means going uphill over the top of the dunes to reach the sea!  So getting around is easy and environmentally friendly for delegates.
3. Largest parking garage in the world
Not only is biking a way of life for the Dutch, but the entire infrastructure of the Netherlands has also been designed with cyclists in mind. Last year, one of the largest bicycle parking garages in the world was being unveiled in The Hague. With room for 8000 bikes, visiting it is like stepping into an ultra-modern, futuristic museum or airport.
4. Bicyle routes
As mentioned before, you can cycle within 45 minutes throughout the entire city, but if you want to do some sightseeing, grab a drink every now and then or stare at the beautiful skyline for a while, we recommend you take some more time. With particular care and attention, our partner organisation thehague.com have put together a number of routes where the combination of nature, culture, history and cuisine is of crucial importance. Check them out here.
5. Electric bikes and scooters
A popular way of transporting through The Hague is through the use of electric bikes and scooters. A cheap and easy way to travel to the beach, venue or hotel. A recently launched example is the e-bikes from Bondi. Bondi aims to introduce sustainable shared E-vehicles to make mobility available for everyone at all times and places. Fast yet sustainable! Still too lazy to take a bike? Grab one of the e-scooters by Felyx or GO!