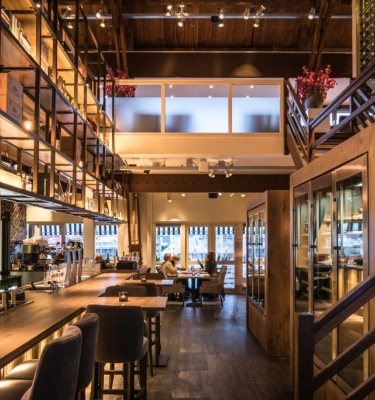 Waterproef
If you are looking to enjoy a nice glass of wine paired with excellent food in The Hague then look no further than Waterproef. The restaurant was established in 2007 and is located next to the harbour, in the same vicinity as other high-class venues and the Zuiderstrandtheater.
Venue overview
Capacity

300 people

Meeting rooms

1

Venue style

Contemporary

Layout of the room

Banquet, U-layout

Type of event

Meeting, Social event

Sustainable

yes
The Venue
Waterproef is the perfect venue for a dinner, meeting or reception, and it can host up to 130 people. With its wooden beams, modern cuisine and the delicate distribution of wine bottles placed throughout the restaurant it is a pleasant mix of trendy meets tradition. 
The cuisine is elegant and formal and the Waterproef wine selection is exceptional due to its quality and variety. There are wines for every budget and taste, bottles of vintage wine –  a well thought out and constantly updated selection.
Request for Proposal
Could Waterproef be the venue of your next successful business event? Contact us to talk through the options!