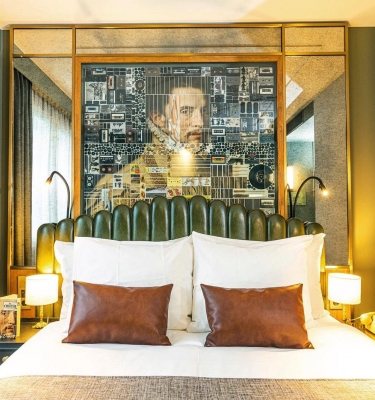 The Collector Hotel
The Collector is a new lifestyle boutique hotel on a unique courtyard called Haagsche Bluf, in the heart of The Hague. The Collector makes for an inspiring and creative environment due to its colourful and personal collections of different sorts of items, art and furniture that are on display.
Venue overview
Meeting rooms

1

Largest meeting room

44M2

Venue style

Business

Layout of the room

Banquet, Cocktail, Meeting

Type of event

Meeting, Presentation, Social event
About The Collector
The Collector's Basecamp is where locals and travellers meet and connect. Additionally, it makes for an inspiring venue for informal and open get-togethers or events that are meant to be hosted in an open lobby and bar space.
Meeting possibilities
The Collector's Basecamp can accommodate up to 55 place settings for lunch (a combination of standing and seated), 35 place settings for a culinary seated dinner and up to 100 guests in a cocktail set up. Types of events that are suitable for Basecamp's facilities include brainstorm sessions, informal meetings and presentations. 
Furthermore, The Collector also offers a unique and private venue called The Collector Loft. This exclusive suite has a great view of the city centre of The Hague and welcomes up to 8 guests in a meeting setting and a maximum of 15 guests in a cocktail set-up. Our Food & Beverage team will be more than pleased to serve you sweet and savoury delights throughout the day.
There is Wi-Fi available in both public areas as well as in The Collector Loft.
Accessibility
The Collector is located in the heart of The Hague. When you arrive at The Hague Central Station, tram 2, 3, 4 and 6 will take you to Grote Markt, which is a convenient 5-minutes' walk from The Collector. When you travel by car, Q-park Grote Markt is also just 5-minutes' walk from The Collector.
Your next event at The Collector Hotel?
Get in touch now for more information about the event possibilities at The Collector Hotel!