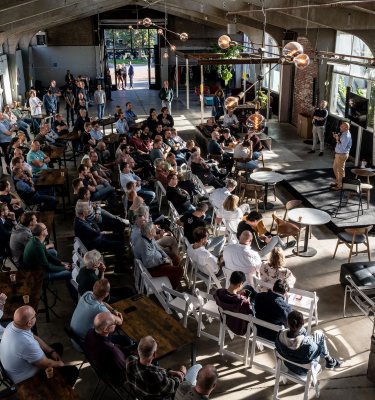 At The Binck (Saturnus)
At The Binck (Saturnus) is an old factoryhall transformed into a unique, industrial and cool eventlocation. The perfect backdrop for your wedding, meeting or corporate event. The authentic roof, the bar made from an old sea container, the vintage furniture and the spacious light make Saturnus a location like no other.
Venue overview
Capacity

400 people

Meeting rooms

1

Meeting room capacity

250 people

Largest meeting room

420M2

Venue style

Other

Layout of the room

Banquet, Cocktail, Meeting, Theatre, U-layout, Other

Type of event

Conference, Meeting, Presentation, Social event

Sustainable

yes
At The Binck (Saturnus)
Do you want to organize a conference or party? Saturnus is your guy! With its unique, industrial appearance, Saturnus is the perfect setting for all kinds of events. Saturnus has its own unique look and feel and determines the atmosphere of your event in its own way.  You will find this spacious, industrial location in the heart of the trendy living and working area of the Binckhorst. It has its own terrace, which is also used as an entrance, so your guests will arrive in the mood before they enter. Saturnus can accommodate groups of 30-400 guests. Saturnus is ideal for a street food vibe by placing a food court or food trucks, but a conference, seminar of wedding are also possible. Saturnus has everything for a complete event. Atmospheric bar, private toilets and power current to carry any form of entertainment. Saturnus Looking for easy entertainment? No worries, we have a number of games as standards such as a table tennis table, a shuffleboards and darts. Plug and play!
Unique and Industrial Location
We've all been at those events, where you walk around and everything has been thought of. We tackle it that thoroughly. We want to make the difference for every client, in terms of organization, decoration, technology and of course food & drinks. Surprise your guests with our unique and industrial locations and accompanying meals, bites and drinks. By producing regionally and sustainably as much as possible, we make our contribution to people & planet where possible. Naturally taking dietary requirements into account.