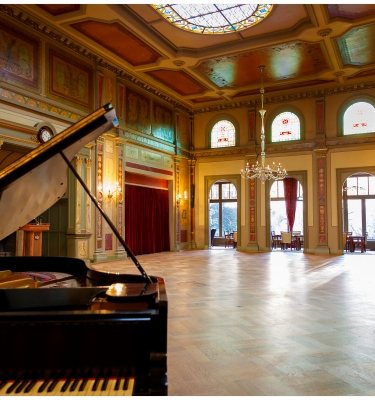 Sociëteit de Vereeniging
The King's Ballroom is a venue with a regal ambience for weddings, receptions, parties, walking or sit-down dinners, music performances and business events.
Sociëteit de Vereeniging
The oldest part of the building dates from the 17th century and was owned by King William II. The magnificent ballroom was added between 1881 and 1885. It has an eclectic style with Renaissance-esque design features. In addition to the ballroom, your guests may use the adjoining conservatory and bar, billiard room and garden, if desired. Of course, the best choice depends on the type of event. We can contribute our ideas and help you decide.
Venue overview
Capacity

200 people

Meeting rooms

3

Largest meeting room

150M2

Venue style

Historic

Layout of the room

Banquet, Cocktail, Meeting, Theatre, U-layout

Type of event

Conference, Meeting, Presentation, Social event
The King's Ballroom as your event location?
Enjoy the historical environment.