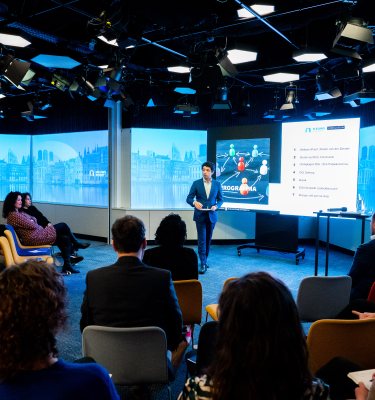 Perscentrum Nieuwspoort
Nieuwspoort: the central conference center for national politics, an ideal venue for exclusive, secure gatherings of up to 1000 guests. They offer extensive facilities, top-notch service, gourmet cuisine, a safe atmosphere, and a unique political setting. Read more about the options for hosting your event below.
Welcome to Nieuwspoort!
Welcome to Nieuwspoort, the conference centre at the heart of national politics. Nieuwspoort is a unique and ideal location for exclusive and well-secured meetings for up to 1,000 guests.

We don't need to tell you that on a national scale, The Hague is a central location. Our Parliament is established here for a reason. Thanks to its central position, The Hague is the home of over 200 international organisations and many restaurants and museums. This makes The Hague the perfect base camp for a multi-day event: with a symposium or conference during the day and a city outing or visit to the North Sea beach in the evening.
Great accessibility
When you organise an event, good accessibility is a must. With key airports within just half an hour's drive, a parking garage directly next to the building and The Hague central station only a few minutes' walk away, Nieuwspoort is particularly accessible despite its location at the heart of the city. If guests are staying overnight, they can choose from one of the many hotels in walking distance.
Other advantages of organising an event at Nieuwspoort include their extensive facilities, professional service, high-quality food and drinks, secure environment and unique location in the middle of the political arena.
Nieuwspoort gives their all to turn an event into a unique experience. They would be happy to think along with you about the options available: from the arrangement of rooms and the broadcasting possibilities to snacks, drinks and event branding. 
3 reasons to choose Nieuwspoort
At the flick of a wrist, their fixed team of professionals can turn an intimate event for just a few guests into an extensive banquet or well-attended conference. Thanks to the great variety of arrangements offered by the space at Nieuwspoort, you don't need to go out of your way to organise multiple parallel sessions. The spacious and well-equipped rooms are specially designed to satisfy all conference needs.
With the newest audiovisual equipment, including professional sound and lighting systems, you are guaranteed an impressive presentation. Their rooms are equipped with modern technologies to promote interaction and engagement, such as wireless connectivity and top-quality projection screens with a projection surface of up to 30 metres across.
High-quality food and drinks
Of course, an event is not complete without delicious food and drinks. Their culinary team serves up a varied range that is perfectly tailored to each event. Whether it's a tasty lunch, sociable drinks reception, chic dinner or something in between— everything is possible.
Nieuwspoort for your next conference!
Interested in hosting your next event, meeting or conference at Nieuwspoort? Get in touch with the team of The Hague & Partners Convention Bureau for more information. Our services are free of charge.