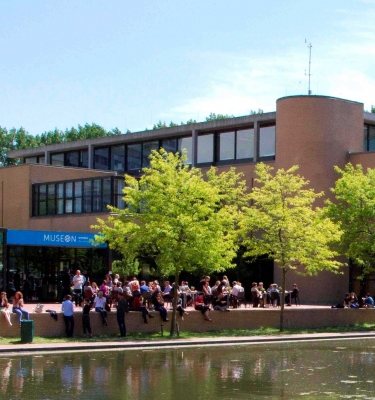 Museon - Omniversum
The Museon is a museum venue in The Hague for culture and science. It aims to inspire visitors to discover the world and encourage them to treat the earth with respect.
Venue overview
Capacity

300 people

Meeting rooms

7

Largest meeting room

400M2

Venue style

Contemporary

Layout of the room

Banquet, Cocktail, Theatre

Type of event

Conference

Sustainable

yes
Event venue
The Museon is also an outstanding location for business events in a dynamic urban setting: the eye-catching building by well-known Dutch architect Wim Quist is situated in the attractive Statenkwartier area of The Hague, at the heart of the city's international zone surrounded by the offices of major organizations like Europol, OPCW and Eurojust. Close working relations with the directly adjacent World Forum conference centre and The Hague Marriott Hotel ensure virtually unlimited potential for large events requiring extensive car parking, overnight accommodation, etc.
Museon spaces
The Museon offers a wide variety of distinctive spaces suitable for social or business gatherings, workshops, presentations, symposiums, dinners and conferences. With seating space for up to 300 people, the museum's auditorium can easily accommodate large plenary sessions. Catering and organizational services are provided by CateringMeesters. This specialist firm works hand in hand with clients to give every event a personal twist, and uses fair trade products to guarantee high menu quality at all times. 
Exhibitions
Those interested can now seek inspiration in the museum's core ONE PLANET exhibition, opened in October 2016. ONE PLANET revolves around the United Nations' seventeen Sustainable Development Goals, which are designed to produce a secure, peaceful, just and sustainable world. The exhibition showcases inspiring ways of ensuring the equitable distribution of food, water and energy and the acceptance of human diversity. The new exhibit has moved the United Nations to recognize the Museon as an official partner in publicising these goals and their importance. The Museon is itself helping to achieve a sustainable world by working to make its premises climate-neutral. It already has the biggest on-roof array of solar panels in The Hague and has been awarded the Green Key Gold eco-label.
Directions to The Museon
The Museon can be easily reached by car – it is a 15-minute ride from the Hague Central Station. The Museon can also be reached by public transport: bus 24 runs regularly from the Hague Central Station. When taking the bus, get off at Gemeentemuseum/Museon stop. The Museon is a one-minute walk from the bus stop.
Your next event at Museon!
Get in contact for more information about this venue!