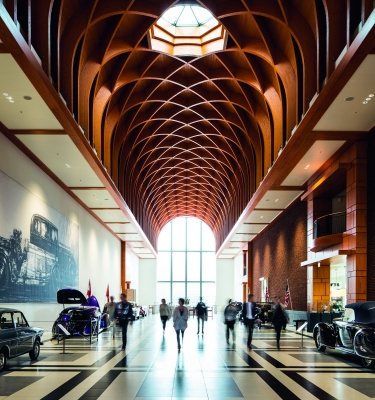 Louwman Museum
The Louwman Museum tells the story of over 130 years of progress, technical innovation and increasing prosperity. Over 275 icons from the history of the automobile play a central role. But there is more: impressive rooms with high ceilings, landscape gardens and the Museum Square in the style of the 1920s make the Louwman Museum the perfect location for your event.
Venue overview
Capacity

1000 people

Meeting rooms

9

Largest meeting room

1235M2

Venue style

Unusual

Layout of the room

Banquet, Cocktail, Meeting, Theatre, U-layout, Other

Type of event

Conference, Meeting, Presentation, Social event

Sustainable

yes
Venue overview
FOR YOUR EVENT...  STEP INTO THE HISTORY OF HUMAN PROGRESS
 
… STEP INTO A WORLD OF INSPIRATION
The Louwman Museum in The Hague,  the Netherlands houses a unique collection of 275 highlights of automotive history. Taking you for a spin, so to speak, through more than 130 years of human progress, innovation, and design.
 
… STEP INTO THE HISTORY OF INNOVATION
In addition to showing how automotive transport has evolved over the years, the one-of-a-kind collection of rare automobiles and memorabilia also allows visitors to discover the advances in technology, design trends, growing wealth and changing social trends which emerged during this time. You will find everything from the first-ever electric vehicle (built more than a century ago!) to some of the twentieth century's most stunning automotive designs.
 
… STEP INTO THE HISTORY OF DESIGN
The Louwman Museum offers numerous attractions to guests to complement its vast collection of automobiles. These ancillary collections of vehicle-themed art, miniature models, posters, trophies, and even aircraft are all well worth a look.
 
… STEP INTO A UNIQUE LOCATION
You will find the full collection housed in the Michael Graves-designed main museum building, which is located in a lush section of The Hague renowned for its grand estates. Covering an area of 16,000 square metres divided across three floors, the Louwman Museum is nothing if not versatile and can be used for an infinite variety of purposes. The garden landscape (designed by noted landscape architect Lodewijk Baljon) is beautifully integrated with the Haagse Bos, a protected wooded area within the city
 
… STEP INTO SPACES THAT ACCOMMODATE EVENTS OF ANY TYPE AND SIZE
Take advantage of the Louwman Museum's unique setting to dazzle and inspire your guests at your meeting, conference or convention, trade fair or exhibition, reception, dinner, or party. The museum's nine exquisitely designed rooms offer all the amenities and facilities you need for your business event. Whether you're hosting a presentation in the grand theatre, a gathering in one of the stylish meeting rooms, or are looking to book the museum for a private event.
Request for Proposal
Could Louwman Museum be the venue of your next successful business event? Contact us to talk through the options!