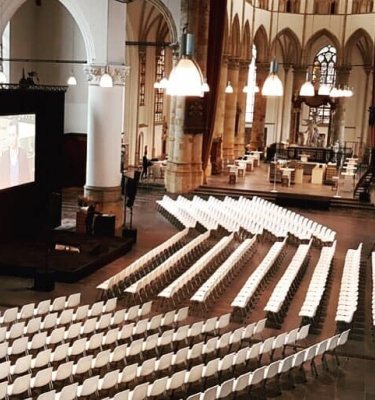 Grote Kerk
Rond de Grote Kerk 12 | 2513 AM The Hague
|
View on map
In the middle of the city center of The Hague, the beautiful old church 'de Grote Kerk' can be found. Since 1982, the church serves as a full-time event location and offers a unique ambiance for your event! De Grote Kerk is particulary suitable for concerts, congresses, exhibitions, fairs and festivals for 1,650 people.
Venue overview
Capacity

1650 people

Covid-capacity

300 people

Meeting rooms

10

Largest meeting room

2100M2

Venue style

Historic

Layout of the room

Banquet, Cocktail, Meeting, Theatre

Type of event

Conference, Meeting, Presentation
Meetings and events
The church has 500 Howe unit seats, and more can be provided if you wish. The seats can be arranged in different formations, depending on the situation. Up to 1652 persons can be accommodated. The nave and the choir can be divided into separate areas. The church has the latest amenities (including floor heating) and is easy to reach by public transportation or car (there are four car parks nearby). 
Request for Information
The central location of this venue is just one of the many advantages of De Grote Kerk. The incredible looks of the church as well as the many possible options will guarantee a definite success for your event.