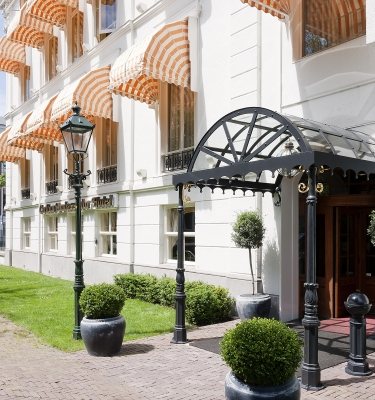 Carlton Ambassador
The Carlton Ambassador lies in the 'green heart' of The Hague, surrounded by the stately buildings of international organisations, multinationals and embassies: a historical building in a historical neighbourhood.
Venue overview
Capacity

250 people

Meeting rooms

2

Largest meeting room

220M2

Venue style

Historic

Layout of the room

Banquet, Cocktail, Meeting, Theatre

Type of event

Conference, Meeting, Presentation, Social event
The hotel is located near the World Forum Convention Centre and lies within walking distance of the Peace Palace and upscale shopping streets filled with boutiques, antique shops, art galleries, as well as a variety of attractive bars and restaurants.
The Carlton Ambassador has 88 rooms and suites, each designed and furnished in its own unique design. In addition, there are two halls decorated in chique style, which can serve as beautiful backdrops for conferences, presentations, or festive gatherings.
For a rich culinary adventure, you can visit Restaurant Sophia, named after the adventurous daughter of Willem II. For a more informal festive gathering, Loungebar by Sophia is a very welcoming place.
Request for proposal
Could Carlton Ambassador be the venue of your next successful business event? Contact us to talk through the options!