Bonus Q & A | The Hague Convention Bureau Webinar #1
In this article, we are covering an extra Q&A about questions that were not answered during the live-streamed webinar on 9th of April due to the time constraints. The topic of the webinar: "Outlook on the meetings industry and shared best practices post and during COVID-19 disruption."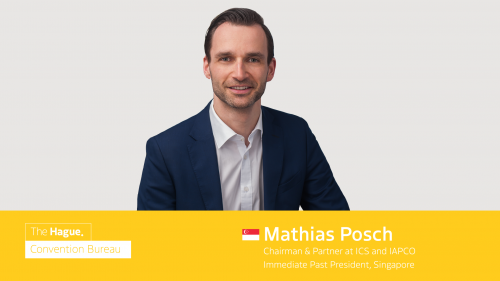 Q & A with Mathias Posch
Are there any predictions what will be the consequences for event locations (e.g. hotels or congress buildings) in the long term, who are very much used/dependent on onsite live meetings instead of digital meetings?
I don't think Virtual will replace anything. I would try to see it as an opportunity to get the message out to more people. ​
We will have to change our thinking about the lifecycle of a meeting. For now, it has been the duration of a meeting in a destination only. The new lifecycle could be 3-12 months of webinars with the "main event" being the physical meeting in a destination. The destination/venue can promote through the online meetings to increase the audience coming to a live meeting but also to other people that might consider the location for a different event. [Mathias Posch]
How do you feel clients and venues will handle contracts in the future? 
Immediately there will be more caution for Force Majeure etc., but in the long run, we have to understand the role of each player in the meeting supply chain. As meetings are evolving, so will all related parties. [Mathias Posch]
In the case of Nigeria, been far behind in technology what can the advanced country do in such a situation where they have a business with the less advanced country, how will the way forward be?
The World community already realizes that Broadband Internet is a necessity and an "equalizer". I hope the crisis emphasizes the need to connect people better electronically and that will allow a much better flow of information and open up new opportunities for countries like Nigeria and its scientific & professional community. [Mathias Posch]
How do you think the associations will come out of this crisis? ​Their annual conferences are typically their main revenue stream
It is a good reminder for associations to diversify their income streams but also their conference offerings. Many associations are currently looking at a new strategic plan on how to conquer this situation. Associations are notoriously slow to change and some less adaptable ones in affected fields might not come out of this. Others I think will manage well but I am fairly certain that we will see a difference in how they will conduct their meetings. There might be a fresh look at holding ​several smaller meetings and online education rather than building ​the entire association around one big event. That has always been ​risky and I think for some associations this will be a bit of a ​wake-up call. [Mathias Posch]
What do you think will happen to venue and hotel ​rates in the next 12 to 18 months? 
I think hotels will try to hold on to rates as much as they can but as it has been with other crises in the past 20 years, at some point the price will have to be adjusted a bit. Hotel prices in many destinations were at an all-time high, so there is a good chance that they will decrease a little as there will be hesitation to book and confirm but I don't think it will be dramatic on the long run. Of course, this is just my opinion, based on some previous experiences. [Mathias Posch]