Bonus Q & A | The Hague Convention Bureau Webinar
In this article we are covering the extra Q&A's that have not got to be answered during the live-streamed webinar on 7 May due to the time constraints. The topic of the webinar was "How are sales activities in the meetings industry evolving in time where there is little demand?".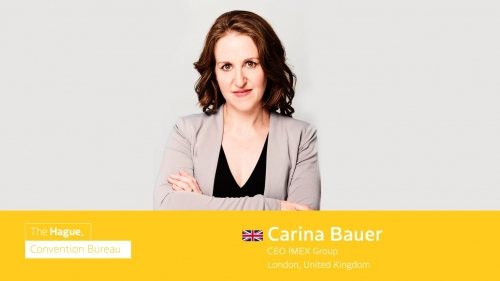 Q & A with Carina Bauer
How do you address pricing? Given higher costs and space requirements of staging live socially distanced event but with reduced attendee numbers
The answer to this question will be different for every organiser and venue. There are clearly cost issues for venues who automatically have smaller capacities if physical distancing is maintained in the future; as well as additional costs associated with items like thermal scanners and UV cleaning equipment, increasing cleaning staff and timetables, changing venue flows and fit-outs, installing tech equipment to enable hybrid events to take place, etc. There will be questions between venues and organisers around who picks up these costs and how. For IMEX 2021 we will be fixing our prices at 2020 levels and working hard to ensure that hosted buyer numbers are not significantly reduced – we aim to ensure that our exhibitor – buyer ratio is at least equal to previous shows, if not better. [Carina Bauer]
As being a global business events magazine our next issue only lost one advertiser as we have mostly convention bureaus and destinations as clients. I guess because most of them had their budgets end of last year beginning of this year. Does anybody own what will happen next year? Will there be budget cuts? Will IMEX lose destination clients? What do they say in the US? Seems like Asia is better prepared for next year an already Seoul/Korea is planning for a strong comeback. Any thoughts?
The reality is that this will be different for every exhibitor. There will certainly be budget cuts in some areas and we expect some destinations, hotel groups, cruise lines to reduce or cancel in the short term. On the other hand, we are already talking to destinations who want to increase their space and sponsorship activations. As always, it is not a 'one size fits all' response and that is largely due to the fact that budgets are managed very differently in each destination or corporation. [Carina Bauer]
How concerned do you think buyers are about venues remaining in business for events taking next year or beyond? How concerned are end-user clients about their agency going bust?
This is a good question, but it is not an issue that I have seen being raised much in conversations or online sessions that I have been involved with. [Carina Bauer]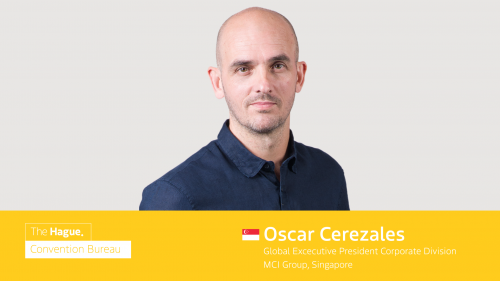 Q & A with Oscar Cerezales
Many of the conferences now are either being postponed to 2021, virtual or cancelled. How do you continue to engage the confirmed sponsors/exhibitors for your events in the case of postponement, or virtual?
One size doesn't fit all. On our side we keep the conversation co-creating solutions (visualizing future scenarios for their sped). Also we are having open conversations between customer - sponsor (sometimes customer is MCI because we own certain events) redefining event - customer's customer interaction. Basically, the answer would be co-creating the plausible futures together and then, reverse engineering. Sometimes a quick adjustment is needed. sometimes a whole rethink. [Oscar Cerezales]
Are clients still interested in travelling or are we going to have more meetings/seminars through internet since it is cheaper and quicker?
Definitely digital is here to stay. Future will be hybrid. No doubt. The digital 'tool' offers to customers (associations, corporations, others) like (1) cost savings (2) easy tracking (3) further reach (4) content multichannel access (5) scalability (6) replicability etc. That said, obviously these are the digital 'values'. F2F have other values as (1) human -better- interaction (2) the experience (3) multisensorial. The fundamental unanswered variables here are (1) the economics of digital-hybrid (they are new ones) and (2) the new value chain (new roles, new connections, new players, new chains). The future is hybrid. F2F co-existing with digital. let's see what's the balance. [Oscar Cerezales]
Do you see any new trends in the supplier chain: client-agency/PCO-DMC-suppliers?
Absolutely. (1) because of all new digital needs new players are 'in town' (think in UX, coding, broadcasting, strategic planning (2) there is a new ecosystem where certain roles are being redefined (e.g. what's the role of a CVB in an increasingly digital world? how impact is going to be measured? who does what in this new ecosystem? (2) Darwinism (will impact the supplier chain, the longer the crisis lasts, the harder) (3)  New outsourcing (we are seeing changes in the way corporations are and will insource-outsource as the low touch economy is kicking in)  (4) market (possibly we'll see a polarization in this supplier chain where the smaller and bigger ones survive but the ones in the middle suffer ..). Long story short, some will disappear, some will merge, some possibly will define new JVs and partnerships .. but all, 100%, need to review their business model to compete (customer segments, value prop, channels, growth and limiting factors, cost and revenue structures etc.)
I think the future will be about more volume (more events), but F2F smaller and a high % of digital (where margins are thin). [Oscar Cerezales]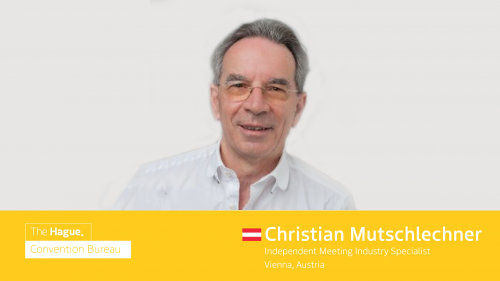 Q & A with Christian Mutschlechner
Do you think that the different levels of COVID-19 outcomes in different countries will make future sales more difficult for some countries more than others? In terms of different government responses to COVID-19, e.g. in countries that are seen as handling extremely well – do you think that these countries will see a larger demand for venues and meetings in the future?
Countries are on a different speed to release lock down activities, the most critical part is when do all the countries open up again for travel (allowing entering countries without a 2 weeks quarantine). As international meetings are really international  I do not see an advantage for the countries opening earlier than others. At the end it is the client deciding if it is worth taking the risk to have less participants than normally planned. And to not forget there is also an ethical element in the whole story, we should not try to win over health weaknesses of our friends/competitors, global solidarity is the only way to help us all. [Christian Mutschlechner]
How to approach to introduce / sale for long haul destinations  / services (DMC) or venues (hotels) given that:
-  there are currently no common regulation on international travel?
-  uncertainty in local market with travel restrictions?
Will Sales Managers be able to sell intercontinental events before there is a vaccine?
As already said in the webinar - there is the "normal" market from late 2021 onwards, hoping that the whole world managed COVID and science found a remedy to fight the virus. I personally believe that full sale can only happen when a vaccine is on the market. However starting now and always having all the regulations in your country at hand when talking to clients might help a lot. [Christian Mutschlechner]
How can we support our partners such as PCOs, to make sure they stay in business as well?
I must admit that when there is no business you cannot help your supply chain, unless there is a state managed support fund, which provides financial support to cover at least part or all of the fixed costs. This virus shakes our industry and our supply chain like no other before – many people say only those will survive who have reserve funds. It is a tragedy but our supplier world will look partly different in a few months. [Christian Mutschlechner]
Based on the question regarding budgets, for international events, do you see more venues, tourism boards, convention bureaus just sending their local offices instead of traveling from head office?
I highly recommend not to replace direct contact with your clients by regional or local offices in the country. Normally those people do not have the detailed knowledge and also not have the Know How to talk to association clients or Corporate clients. I personally think the most important working toll now is the telephone! Talking, talking to your clients, to those who cancel, to those who might choose alternative dates and also to new clients. Focus on what was said in the Webinar, Consultative Sales. [Christian Mutschlechner]
I see three big challenges will remain once events are up and running again: Venue Availability - 2021 is already quite heavily booked. Contracts & rates - clauses in contracts for 'get-outs' and increasing rates if larger venues needed for lower numbers to allow for distancing. Viability of venues - buyers knowing the venues are solvent.
Does the panel have any opinions on this? How have the venues been dealing with the events that have been postponed? Does it seem that 2021 will be a busy year for the venues? How are they managing it?
If all works out well and we can travel easily by beginning of next year, yes 2021 will be a very busy year. We will see if participant numbers are the same as before COVID, but it might be a heated or even overheated year. The good thing is that as far as I know, many clients want to stick to the same destination and the same venue in the destination when they are moving the event to 2021. And it seems to me logical that the rates for venues will be the same as for 2020. Another association business is already on the books for 2021 (those who planned 2021 already some years ago). Overheat might come from the Corporate Market but I do not believe that it will be the case, as we are moving economically into a tough recession, so Corporate Market will be by far less demanding than before COVID. There will be a need to revisit contract clauses etc., clients will probably hesitate to sign a formal contract well in advance, even if it is clear about the decision but the whole relationship will be very volatile for the months to come. I can hardly imagine running meetings with the social (which should be a physical) distancing. Meetings are key for networking and personal meetings so masks probably but distancing no. [Christian Mutschlechner]