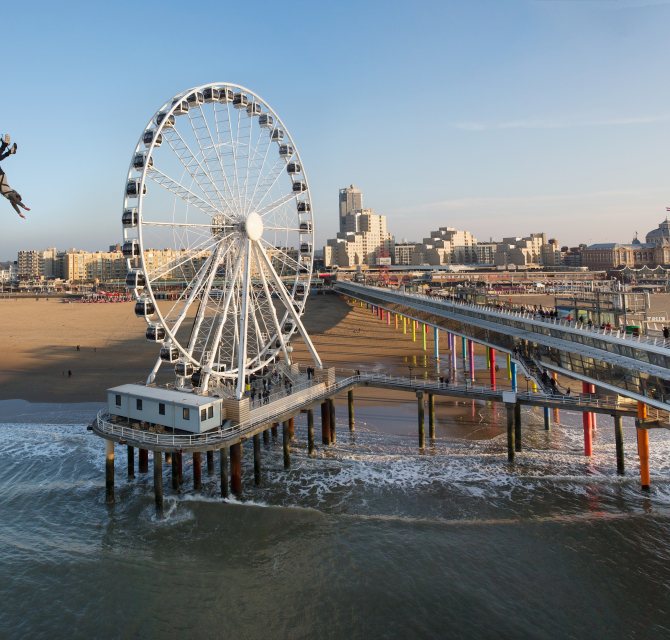 The beach of Scheveningen is open and the destination for cooling off during the tropical late summer week
8 September 2023
The Hague – Scheveningen is open. With a tropical late summer week approaching, many visitors and tourists will set out to visit Scheveningen's iconic beach. With its miles of coastline, the seaside resort of The Hague offers relaxation, adventure and cooling off on tropical days.
The Hague has eleven kilometers of beach, and the seaside resorts of Scheveningen and Kijkduin always attract many visitors. This month, work started in Scheveningen to improve the coastline. These take place in small sections along the waterline between the Zwarte Pad and the Harbour.
In about four months, approximately three kilometers of coastline will be updated, ultimately involving 700,000 cubic meters of sand from the North Sea. As a result, a section of beach, up to a maximum of 200 meters, has been cordoned off.
Sander Hanenberg, head of marketing and customer care at The Hague & Partners, says: "Incorrect reports have recently appeared in the media about the months-long closure of this beautiful beach in The Hague. We would like to make it clear that Scheveningen is completely open and ready to welcome visitors, except for a very small stretch of beach."
In addition to the sun, the sea and the extensive coastline of Scheveningen, you can enjoy culinary delights at the many beach restaurants with a direct view of the sea and the setting sun. Athletes and adventurers can indulge themselves because of the many water and beach sports available and with a visit to the Ferris wheel Skyview de Pier you have a breathtaking view of the entire coastline of The Hague. For more information go to denhaag.com/strand.
Hanenberg continues: "We want to invite all visitors to continue discovering Scheveningen and enjoy the beautiful late summer. The beach is open, the people are welcoming, and adventure awaits."