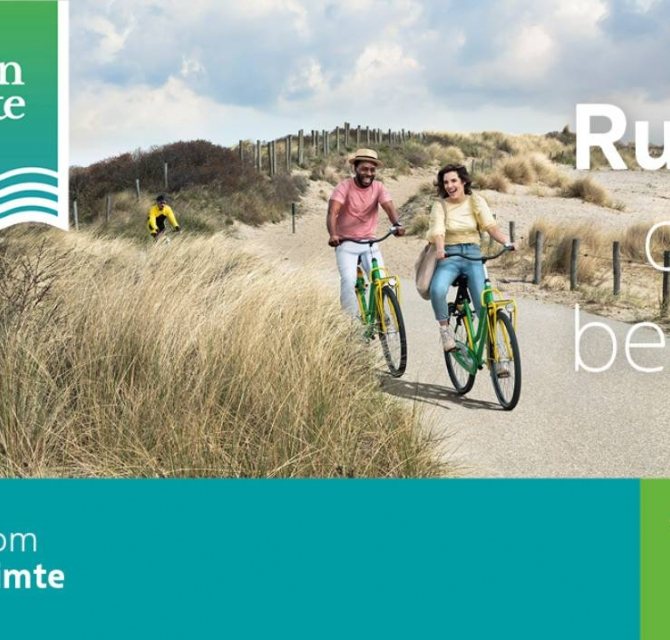 Campaign 'Zee van ruimte' launched
2 June 2021
We all need a carefree way to fully enjoy and relax. Now that more and more is possible, The Hague calls on people to come to the city by the sea to do so. With the campaign #zeevanruimte (sea of space), the city of The Hague shows from 1 June onwards that it is a pre-eminently hospitable destination with beautiful hotels spread throughout the city, various shopping and hospitality areas and of course the eleven kilometers of beach. All the ingredients are present for a wonderful summer.
"Everyone wants to travel again and have great experiences, but not everyone is ready for a city trip across borders yet. Fortunately, there are alternatives at home, such as here in The Hague where we offer visitors a #zeevanruimte 365 days a year," said Alderman Saskia Bruines.
Research by the Netherlands Board of Tourism & Conventions (NBTC) shows that the travel needs of Dutch people and residents of neighbouring countries are still very high. Of this group, an average of 70% indicates that they definitely want to go on vacation this year. The number of vacation plans has remained the same, but the number of bookings is increasing. Almost half of the Dutch population is considering spending the summer vacations in their own country.
Commissioned by the municipality, The Hague & Partners is responding to this. Director Marco Esser: "With the #zeevanruimte campaign - a sequel to last year's successful campaign - we want to show everyone what The Hague and both seaside resorts Scheveningen and Kijkduin have to offer. Spread throughout the city you will find attractive shopping areas, top cultural institutions, beautiful parks and nature reserves, a rich culinary offer and beautiful hotels with attractive packages.
This ensures a good distribution of visitors and that is exactly what is so desirable in these times." With the #zeevanruimte campaign, The Hague is initially betting big on reaching the national audience. Among other things, through a TV commercial on public channels and attention on social media, the whole of the Netherlands will discover that the city is a perfect destination this summer; hospitable, safe and with endless possibilities for a nice stay.
Known and unknown places in The Hague are featured in the campaign. The set-up is flexible, so that it can be adapted to changing circumstances if necessary. After the summer, depending on the situation at that time, neighbouring countries will also be addressed through various online channels. After all, The Hague is not just a great destination during the summer months, it's a great place to get a breath of fresh air and enjoy all the gems the city has to offer all year round.