New Energy
By 2050 the Dutch government aims to reduce greenhouse emissions by 95% compared to 1990 figures. The Hague sets ambitious goals to become carbon neutral by 2030 and achieve a net-zero carbon footprint 20 years ahead of the whole of the Netherlands. As the energy sector is undergoing a radical transformation towards a zero-carbon future, The Hague is rapidly developing into an internationally leading centre of "new energy" activities.
New Energy covers electricity and heat generating industries such as (offshore) wind, solar, marine and geothermal. It, however, is much more than that. It relates to all sustainable solutions that lead to a lower carbon footprint. Think of hydrogen, energy storage, electrification, carbon storage, cleantech, but also digitalisation and much more. The Hague offers a perfect landscape for companies in new energy to flourish.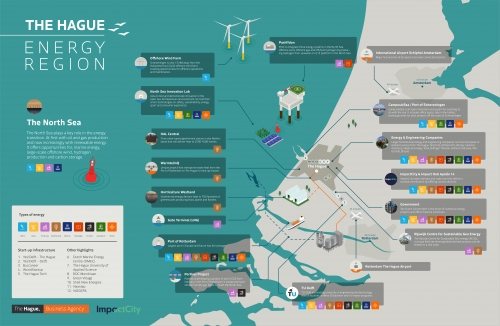 High resolution Energy Region Map can be downloaded here
Inspiring stories
Interview with Britta Schaffmeister, the CEO of Dutch Marine Energy Centre is talking about her diving passion, energy grid and opportunities for marine energy sector at Campus@Sea in The Hague.
Ocean Energy Europe 2023
The city of The Hague had the pleasure of hosting the 10th edition of the Ocean Energy Europe Conference & Exhibition, the largest global network of ocean energy professionals, at Amare. 
This event brought developers of ocean technology, decision-makers, participants in the supply chain, and researchers globally together, facilitating the exchange of the most recent developments in the ocean energy sector especially on tidal and wave technology. Oceans are the world largest dependable untapped source of renewable energy which can provide 10% of Europe's current electrical needs. 

Leaders in the Ocean Energy industry, including HYDROQUEST, Orbital Marine Power Ltd, Sigma Energy, DP Energy Group and CorPower Ocean, gathered to discuss the latest developments shaping the future.

The conference included guided tours by EWA to facilities of leading Dutch technology developers such as Slow Mill Sustainable Power BV, WeCo, SeaCurrent, Water2Energy, FishFlow Innovations, REDstack BV and Symphony Wave Power, which provided valuable insights into pioneering innovations.

Last but not least, a special thanks to DMEC (Dutch Marine Energy Centre) for their platinum sponsorship, and IRO - The Association of Dutch Suppliers in the Offshore Energy Industry, the Provincie Zuid-Holland and Gemeente Den Haag for their support!
Energy Profile
The Hague region has a great track record in the energy sector. It is home to numerous companies operating in the energy industry, including Total, Siemens Gamesa, Orsted, Wintershall, Shell, Aramco Overseas and Neptune Energy. Several large global engineering companies and service providers, such as McDermott, Worley, Jacobs, TNO, Tebodin, Schlumberger and Technip, are based in the city too. Besides these larger firms young innovative companies are continuously joining The Hague's energy ecosystem.
The Hague has always been a strategic option for energy companies, being in close proximity to the Dutch government, knowledge and research institutes, trade associations and of course the industry. The port of Rotterdam and international airport Schiphol are both within 45 minutes reach, making it a central location on a geographical point of view as well. For these reasons many companies decide to manage their EMEA and/ or global activities from their The Hague office.
Start- and scale up support
For young enterprises with innovative solutions The Hague can offer a number of initiatives to help these companies reach the next level. ImpactCity, for instance, creates an optimal climate in The Hague in which 'impact makers' are in pole position to tackle global challenges. They help start- and scale up companies with service, housing and financing. There is also a variety of incubators including YES!Delft, World Startup and the Buccaneer.
Our strategic partners
The municipality as well several key partners play a vital role in linking companies with important local and national partners: