The Hague & Partners Business Agency Conference
The Hague is an impact city and is considered the most welcoming city in the Netherlands for internationals. At The Hague & Partners we have started doing interactive online conferences to help entrepreneurs network effectively and efficiently during crisis times.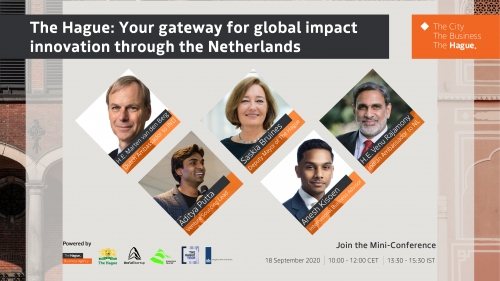 Who was it for?: This webinar is for active international entrepreneurs looking for opportunities to expand their business to Europe, looking for investors, partners, strategic contacts and guidance in various business related matters.  
What was covered?: 
Personal experiences of entrepreneurs in the South-Holland region
What does The Hague offer to the Indian businesses and entrepreneurs? (Economic vision)
What did The Netherlands and The Hague do to support entrepreneurship in response to COVID-19 crisis? (government initiatives, social distancing, etc)
What are the business, collaboration and funding opportunities in The Hague for international entrepreneurs?
If I am interested in starting or expanding  my business to the Netherlands, where can I start?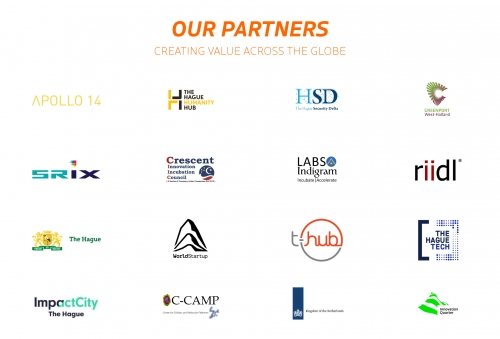 SPEAKERS:
Aditya Putta, Venture Sourcing Lead, WorldStartup

Anesh Kisoen, Business Advisor IT & Tech, The Hague Business Agency

Saskia Bruines, Deputy Mayor, The Hague

Marten van den Berg, Ambassador of the Kingdom of the Netherlands in India

Venu Rajamony, Ambassador of India to the Netherlands

Aditya Putta, Venture Sourcing Lead, WorldStartup
Hub Speaker: Gerrit Jan van 't Veen, Founder, WorldStartup
Startup Speaker: Samuel Alvarado, CEO & Co-Founder at ModelMe3D
Moderator: Parvez Alam, CEO, Crescent Innovation and Incubation Council
Hub Speaker: Alex Taillandier, Programming Director, Humanity Hub
Startup Speaker - 1: Mark Andres, Director, Elva Community Engagement
Startup Speaker - 2: Alex Gunkel, Founder Space4Good
Moderator: Suresh Krishna Bandi, Incubation Manager, SR Innovation Exchange
Hub Speaker: Olga Wielders, Program & Relationship Manager, The Hague Tech
Startup Speaker: Matthew Westaway, Co-Founder & CEO, Voyc
Moderator: Rama Iyer, Chief Innovation Officer, T-Hub
Hub Speaker: Woody Maijers, programma regisseur Innovatiepact, Greenport West-Holland
Hub Speaker - 1: Gerjo Engbers, Manager Asia, Delphy
Startup Speaker - 2: Pim van Adrichem, Director at HortiTech bv
Moderator: Dinesh Chauhan, COO at Indian Society of Agribusiness Professional
Hub Speaker - 1: Bert Feskens, Security Innovation Liaison, The Hague Security Delta
Hub Speaker - 2: Philip Meijer, Senior Account Manager Safety & Security, Innovation Quarter
Startup Speaker: Nadia Kadhim, CEO, Naq Cyber
Moderator: Hamanta Borah, Head of Ecosystem Development, IIM Calcutta Innovation Park