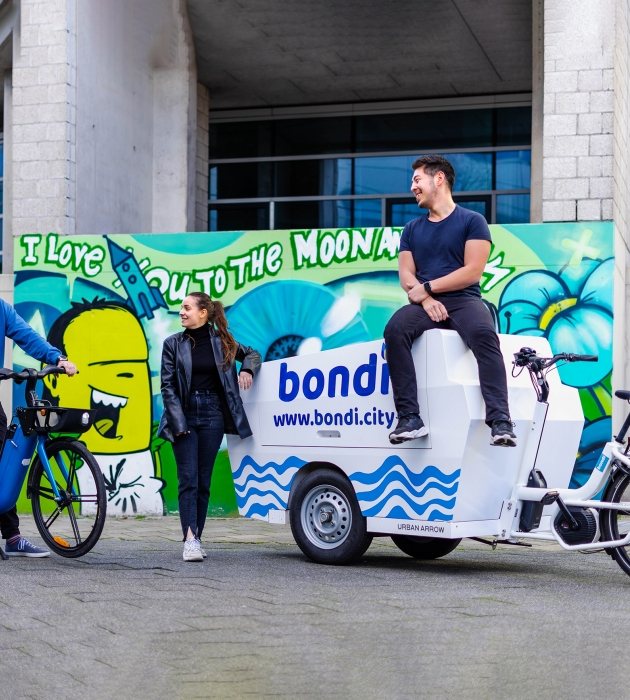 The future of mobility is in The Hague
From students to co-founders
The Hague is the place attracting many young internationals who discover their passion for entrepreneurship during their study. Successful start-ups such as Envision, UbiOps and SolarMonkey are examples of those who established and growing in The Hague.
The two co-founders of Bondi, Max Schalow and Chingiskhan Kazakhstan met in the first year at the University of Applied Sciences of Arnhem and Nijmegen (HAN), where they settled as international students from Kazakhstan and England. They instantly connected based on their belief that people should have an affordable, environmentally friendly way to get from point A to B. Being top students combining study and business they managed to build their first BONDI team without having their first investment in place.
 Today BONDI is a startup with 11 people in the team, offering e-bikes and in the near future e-steps and e-cars, Bondi provides sustainable sharing services for travellers in The Hague. Their ambition is to become the number one go-to transportation in the Netherlands.
 'We saw how neighbours in the Netherlands share cars and bikes, and that made us think of doing it on a bigger scale with a goal to make cities cleaner, safer and more spacious, whilst providing a convenient and sustainable service for the people.' says Chingiskhan. 
One of the biggest challenges for young entrepreneurs was during the early days of establishing their business 'We had no connections, no Dutch language skills, and we wanted to learn how to do it the best way while mixing it with the Dutch approach, so we started reaching out to CEOs and experts in the sector through social media platforms .' 
Chingiskhan further explains what he eventually came to realise 'People were open and supportive, but with an agency like The Hague Business Agency, it would have saved us time and open more doors.'
 The second challenge they faced was to find the balance between studies and entrepreneurship. Eventually, they managed to find a solution in the 'Top Ondernemers Regeling' (entrepreneurship regulation) status, that allowed them to combine the two while excelling at both, making it possible for them to complete their studies in the evenings.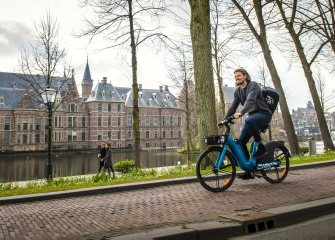 After researching different cities in the Netherlands, Bondi was launched in The Hague. The first reason for this choice was the support they received from the city and communities being enthusiastic about their plan. Once again The Hague has proven to be the city for young, ambitious and innovative entrepreneurs.
The city at the sea and with a  flat landscape made it ideal for launching e-bikes.'it connected with our solution' Chingiskhan adds.
 Recently BONDI became an official partner in the Olympic qualifying games Tokyo 2022 in the Netherlands.
As Bondi continues to expand throughout the Netherlands and internationally, the two young entrepreneurs inspire others, showing casing that anything is possible with the right idea and support the found in The Hague.