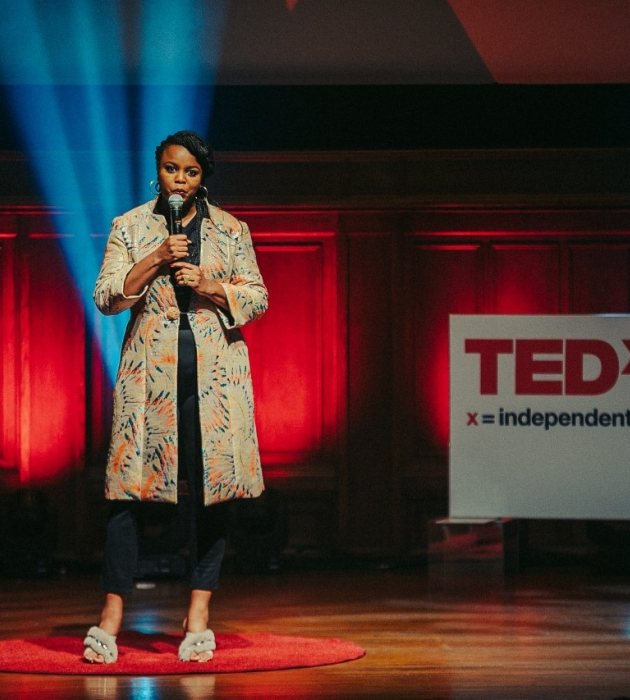 The Future Of Entrepreneurship Is Female!
A social impact and culture strategist, managing director, vice-chairman, committee member, founder, and CEO – these are not even all Marian Spier's career achievements. Focusing on women's rights, female empowerment, and inclusion, Marian managed to create something the Netherlands has not seen before, and now it is successfully expanding worldwide.
From Bachelor's Degree in Communications to Venture Finance in Oxford
Marian owns two companies – FEM-START and IAMarian and is a board member of the Van Gogh Museum and VandenEnde Foundation. After managing at The University of Applied Sciences Amsterdam and working with TEDxAmsterdam and TEDxAmsterdamWomen for ten years, she decided to give back to the community, which also involved and Female Startup award was launched. "The plan was to do it only once, but then it was a huge success. Two hundred people came. It was in all newspapers and magazines that there is an awards program for female entrepreneurs".  Marian shares that women who have started from zero and have become finalists at the Female Startup Award could raise funds within a year from 250k up to a million euros. "We saw that it works: to give female entrepreneurs a platform, to connect them to the right people, to help them boost their confidence. And also, introduce them to the world of finance and funding." Therefore, the plan was to work on an accelerator program for female entrepreneurs worldwide – FEM-START. Today, along with running her businesses, Marian finds the time to study venture finance at The University of Oxford.
Importance of female-driven organisations
FEM-START is an artificial intelligence edtech solution. FEM-START's aim is simple but crucial – to close the start-up ecosystem's funding gap for female entrepreneurs. By educating female entrepreneurs on how to raise funding, the current system can be disrupted "Once they can navigate through the system, you will have more female entrepreneurs receiving and raising funding, and then you will be able to change the system."
Marian hopes that FEM-START, will become a community, where women will dare to ask for help – "We discovered that especially female entrepreneurs when they go through a crisis in their business, they try to solve it by themselves. What is necessary is that they ask for help to look for ways that how others can help."
Organising events with investors is the best way to connect entrepreneurs with mentors and experts who can offer help, funding, and advice. Although based in the Netherlands, FEM-START has contacts all over the world. One of the co-founders, Ellen Tacoma, an initiator of Women on Wings has been able to provide 284.000 women with jobs in India.
Marian explains that as a female businesswoman, an entrepreneur, and a CEO, the traits of a leader are far more important than gender. "When I look at the leader, I don't look at gender because I had great male leaders and I had great female leaders. What I look at are the traits a leader has."  Vision, empathy, and being strong is what make a great leader, in her opinion.
Being a successful female leader requires a lot. Going through challenges and hurdles is what creates an exceptional, successful female leader. Even personally, Marian shares that it was hard work and years of building an extensive career that got her into the place she is in right now.
Entrepreneurship is running a race
Leading a business and being an entrepreneur is a race that never stops. You should only look ahead and focus on the future; according to Marian, strategizing, focusing on the goals, and building a network with people that create space for female entrepreneurs is the way to go. "I don't waste my time kicking doors. I only go through doors that are open for me. That saves a lot of time."
Entrepreneurship is also not a quick-win, "It's not about one or two years, but ten years. That is why I did TEDx for ten years. The event was successful. It was always sold out, and I left behind a healthy organization. Entrepreneurship, it's not just a small quick win, we really need to build businesses, build companies and let them flourish."
The City of Peace and Justice has work to do
Marian finds The Hague a great city for business, but certain aspects still require more attention, Such as diversity and inclusion. Even though certain hubs have provided a network and a platform to speak at events during the pandemic, knowing that the ecosystem is much more impactful, their funding priorities could be revised, concludes Marian: "It would be great to see how the city of The Hague will invest in a diverse startup ecosystem not just by giving diverse voices a platform to speak but financially invest in a systemic change. I would love to see how they do it".