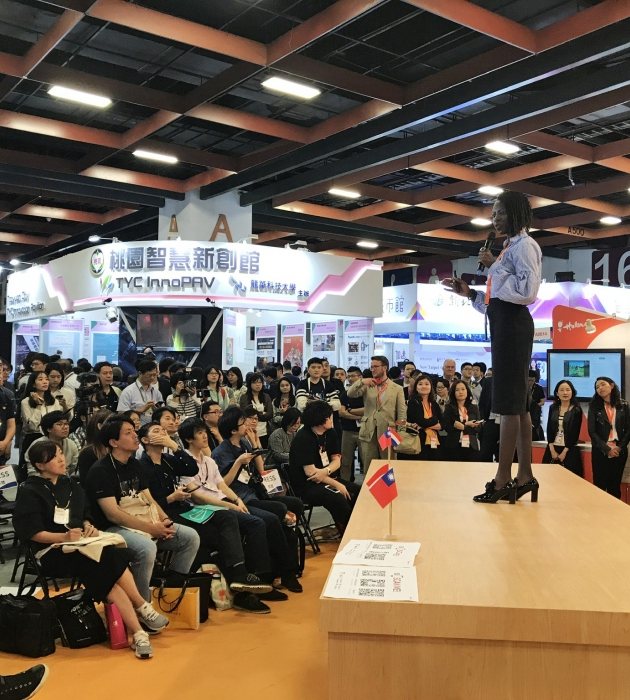 From Successful Corporate Career to Serial Social Impact Entrepreneur
Contributing to the Greater Good of Society with Emotional Intelligence Programs
After 15 years of corporate executive career, Sukai Ceesay is now a serial entrepreneur of a foundation and two social businesses, a board member of Impact-Investor organizations, Ivy Circle of Netherlands and a Global Ambassador for the Princess Maxima Centre for Oncology in Utrecht. Her businesses and programs are focused on Emotional Intelligence development with a contribution to the greater good of society. As a self-identified global citizen with a fascination for human interaction, she feels at home in the multicultural and international impact city of peace and justice, where 'doing good and doing business' is the usual business practice.
Sukai excelled in her corporate career at Domino's Pizza, LLC (DPZ) in multiple roles and more recently as an international consultant. Starting at the headquarters in Ann Arbor (Michigan, USA), she worked on developing executive and leadership skills through a leadership development program within the company. While gaining experience in various departments and roles within the organization; she moved from Michigan to North Carolina, and later got promoted to manage the regional supply chain development and profitability for Domino's Pizza International's Europe, Middle East and Africa, which meant relocating to the new regional office in The Netherlands. Whether to live in Leiden or Amsterdam, it was up to the employees.
Sukai's first solo entrepreneurial venture, the foundation Global Village Children (GVC), will celebrate its 10thanniversary in March 2021. This foundation offers Emotional Intelligence programs focusing on social emotional learning for children ages 3 to 18 which can be integrated in schools' regular curriculums. This program is successfully implemented in The Netherlands, USA, and India.
The idea for these programs was in the making for a while, as Sukai lived in different countries and worked with people from different cultures, she wrote down the differences she experienced in a journal. This later transformed into an instruction for her then unborn children to navigate the world, including tools about interpersonal relations and how to harness emotions and feelings as necessary data in daily problem solving while nurturing the Limbic System- Sukai believes that emotional intelligence is the universal language of human beings.
Sukai has been interested in the subject since her teen years, but had not been able to put it in words, until she started reading Daniel Goleman, who articulated 'emotional intelligence'. Emotional intelligence indicates a person's understanding of themselves, their emotional data, using that knowledge to understand others, manage relationships and how a person relates with the world. It is measured by the index of Emotional Quotient (EQ) and for Sukai, it is about knowing who you are, how to use your energy, and putting that into good use. Delving into the matter, she became EQ certified, and now is an EQ Master-trainer.
Sukai decided to perform the ultimate test of "Am I crazy or is this journal a useful learning material?". She decided to make her instructions for navigating the world into a social emotional learning program, and send it off to an accreditation agency. To her pleasant surprise, it was certified! Knowing she's not crazy, she hoped that one day social emotional literacy could be given to the masses. After discussing her passion for emotional intelligence development with HR and boss at the time, it was supported as long as she was performing in her corporate job. The foundation Global Village Children was born, with pilots in North Carolina and Massachusetts. When she moved to The Netherlands, she made The Hague GVC's global office. To grow, she only needed someone to deploy the program in schools' curriculum without her day-to-day involvement.
Though initially the social emotional learning program was taught to children, soon it evolved to the teachers (via train-the-trainer or certification), who were learning at the same rate in optimizing the use of the limbic system. "When we are healthy, our limbic system operates a certain way so that we can understand each other from a human standpoint. We all have the same feeling capacity and understanding capacity", Sukai explains. "This is what I consider as a universal language. I can go to any country of which I don't speak the language, but I can relate with other people through emotions. So, if I am in distress or happy, you will know it".
In 2016, Sukai pitched the idea of Royal Blue and Orange International Trading (RBO), which supports companies focus on conscious and ethical sourcing of food ingredients, equipment and logistics to her former DP employer. RBO became an approved independent vendor within the Domino's Pizza approved supplier list and soon after to other global food companies, coming full circle.
By creating RBO, Sukai made a risk assessment and staying in the Netherlands was based on practical calculations. Moreover, in The Hague she feels at home, and sympathizes with the values of social justice, humanity, and universal human rights. "I want to stand for the good of a person, the good of a company and the good of the society/nation. These are all parts of me, and also reside in the multicultural The Hague".
Support in the Impact City The Hague
The ability to connect with others is what Sukai also encountered with the assistance of The Hague Business Agency, when landing and establishing RBO in The Hague. "I want to give a shout out to Diana Eggleston",pointing out that entrepreneurs can be living in a bubble of their own on a hamster wheel, "she's able to connect her love of The Hague with the companies and different stakeholders through a shared passion."Sukai is convinced that purposeful companies are not a fashion trend, but the future of business and entrepreneurship: "Purpose, impact and profit should always be the triple baseline of every company". This is why Sukai is inspired about The Hague's Impact City and its motto "doing good and doing business".