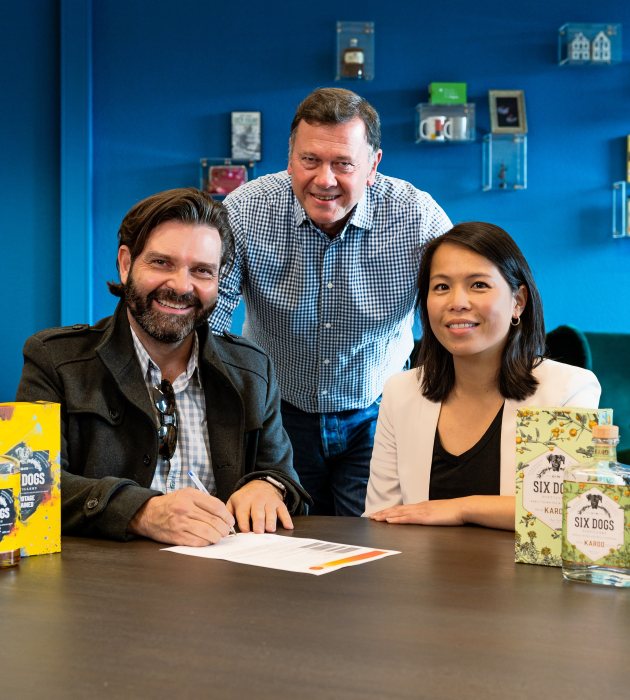 Six Dogs: South African Gin finds its place in The Hague.
As some people might know, the Netherlands is the home of Gin's ancestor, Jenever. So how did a craft gin distillery from South Africa trace these roots back to The Netherlands by setting up their European Headquarters in The Hague?
We sat down with Glenn Bryant and Gerrit Visser from Six Dogs Distillery to learn about their journey as entrepreneurs. More than seven years ago, Glenn and his co-founders saw the trend in Europe and around the world towards premium craft gins. With no background in this industry or even the basics needed to start such a business (such as a still!), but with an adventurous entrepreneurial spirit that is still very much part of the brand today, they took to the challenge! On the family farm, which is situated about 2-hours outside of Cape Town, they found an old abandoned copper water geyser that a friend welded into a makeshift pot still, which was then installed in a small shed where their six dogs slept. Born in a dog shed. Thus, the name Six Dogs.  Today Six Dogs pride themselves on the quality, innovation and 100% natural nature of their products. A new Distillery was eventually build on the spot of the old dog shed and six dogs still greet you when you come for a visit!  Their story is a rare example of genuine adventure and bold decisions against a landscape of uncertainty, change and hyped up marketing campaigns. Many of the ingredients in the gin are foraged or grown locally in an area called the Karoo.. Within four or five years, Six Dogs had expanded to a global footprint of about 28 different countries. With their rapid global growth, they knew the future of their company was becoming global and they had to choose a place to start the next phase of their business.
With the introduction of an alcohol sales ban in South Africa during the 2021 corona virus lockdown and the growing recognition that they were positioned for a global expansion, Six Dogs began their journey to identify their second home from which to drive export sales. The Netherlands came out tops for many reasons, least not being well positioned. Establishing a new business in a new country during Corona was challenging and made more difficult as cancelled flights and process backlogs became the norm, but after a year of hard work, they were able to eventually open the doors of Six Dogs B.V. in the Hague in July 2022. Establishing themselves in the Netherlands also allows them to be closer to distributors in different countries and for further growth in European market, now including the Netherlands. They were assisted by the Netherlands Foreign Investment Agency (NFIA) every step of the way and Glenn notes that "their assistance was invaluable. We could not have done it without them." The NFIA then put Six dogs in contact with different city agencies including Amsterdam, The Hague Business Agency and other municipalities. But in the end, they decided The Hague was the best overall fit.
Gerrit pointed out that the location and accessibility of The Hague was a key component and that the value for money compared to other cities such as Amsterdam was a big draw. He also mentioned that the city has a calm atmosphere, is beautiful, and that being close to the sea is something that personally sustains him. As Glenn mentioned, "We were increasingly drawn to The Hague, and I really do believe that it was the best decision we could have made. Even after a short time in the city we have managed built up a network of friends and business contacts and we are very happy with both the personal and business aspect of our new life". 
And what advice would Gerrit and Glenn give to other entrepreneurs looking to come to Europe and The Hague? They stress how amazing the Netherlands is in supporting and promoting entrepreneurship and its ambition to becoming a center of innovation. Gerrit added, "This mindset and culture of entrepreneurship, innovation and support is hugely valuable to any small business.  So anybody thinking about it, this is a fantastic country and city to be to be part of. In short – just do it!"