HOW I GOT HERE
The Hague is a home for international entrepreneurs, thinkers, leaders, innovators and inspirators. "How I Got Here" interviews offer a spotlights to those international community members who live and work in The Hague. They tell their side of the story on how it is to run successful brands and transform industries, why they choose The Hague and what the city gave them in return.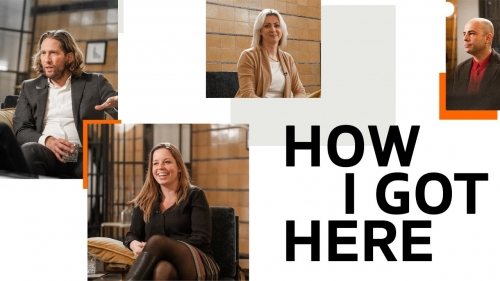 In these interviews we want to show The Hague through its residents, most influential entrepreneurs, thinkers, leaders and innovators. People, who run the top companies, create the most successful brands, innovate and transform industries. Real people, who live and work in The Hague.
Through their stories we want to show opportunities for the world. That's why we will talk to our guests, not only as representatives of their business or a company, but also as just people who build their lives here. We want to hear from them why they choose The Hague and what the city gave them in return.
Episode 13: Interview with Irene Van Dullink, CEO and Founder of Peoplefinders
How has the pandemic changed recruitment processes?

In the next episode of How I Got Here, Irene van Dullink, CEO and Founder of Peoplefinders, elaborates on how the landscape has changed and explains her method of how she connects the right talent with multinational companies in The Hague!
Episode 12: Interview with co-founders: Max Schalow & Chingiskhan Kazakhstan of bondi - shared E-mobility
Have you heard of the Bondi Boys?

After this How I Got Here episode you definitely will have!

Get to know all about the co-founders: Max Schalow & Chingiskhan Kazakhstan of bondi - shared E-mobility 💙 and their mission to revolutionize #sustainable #travel in The Netherlands.

They strive for a more connect shared, autonomous, and electric (CASE) mobility future. 
Episode 11: Interview with Arosha Brouwer and Lucy Howie, founders of Quan
This episode will feature Arosha Brouwer and Lucy Howie, founders of Quan - a company focused on employee well-being. In the interview they will delve deep into the issues surrounding well-being assessments in the workspace.

They teach organisations about how to measure health effectively, improve team performance and employee satisfaction rates, and they have developed a well-being index!
Episode 10: Interview with Nelson Ajulo, Founder of Zwarttech
Watch our latest 'How I Got Here' interview with Nelson T. Ajulo. PhD. from Zwarttech. Learn all about how this social impact-driven business helps companies across the globe by building distributed IT teams with Africa's most talented software engineers.
Episode 9: Interview with Hendrik Halbe CEO of Unknown Group
In this episode, Hendrik Halbe, CEO of Unknown Group, shared his advice with entrepreneurs and talks about why he does not like to talk about his successes. He sees a lot of potential in The Hague and has big plans to do more for this city.
Episode 8: Interview with Sudip Lahiri of HCL Technologies
Nils Beers speaks with the inspiring Sudip Lahiri, the Senior Vice President and Head of Financial Services Europe at HCL Technologies. Curious about his reasons to be in The Hague, his entrepreneurial journey and more? Check out the video.
Episode 7: Interview with Vinayak Pai, Why energy companies choose The Hague
In this interview you will hear a story of Mr. V. Pai, Group President EMEA & APAC at Worley, global energy company with its HQ in The Hague. His view about the city and doing business here as well as his advice on getting business done.
Episode 6 : Interview with Kurt Wu, Director of the GIA Trade & Exhibition Centre in The Hague.
Interview with Kurt Wu, Director of the  GIA Trade & Exhibition Centre in The Hague, who moved to the Netherlands 13 years ago from China. He learned the culture of doing business with the Dutch and mastered the language. He is sharing his tips with those who consider doing business in The Hague.
Episode 5 : Interview with a co-founder of Envision - Karthik Mahadevan.
Envision AI empowers blind and low vision people to be independent by speaking out the visual world in front of them. It is a smartphone app that uses artificial intelligence to read all kinds of text from any surface, recognise faces, describe scenes, find objects, scan barcodes, detect colours and so much more. It is the best all-in-one tool in the pocket of a blind or low vision user for all of their visual recognition tasks.
Episode 4 : Interview with Suzanne Wisse-Huiskes, CEO of Euclid Network.
This interview is with Suzanne Wisse-Huiskes, CEO of Euclid Network , where she is talking about why Euclid Network among other international impact-driven organisations chose to be located in The Hague, how Euclid Network supports social entrepreneurs and what kind of future she wishes for The Hague.
Episode 3 : Jan Hoogenboom, CEO of NL-IX is talking about connected networks and future opportunities.
NL-IX is a Dutch IT tech company with the largest network of networks in Europe. Jan Hoogenboom, the CEO, has started his company in 2001 and attracting hundreds of members and becoming one of the top five IXs in the world. Interconnect Exchange model has proven to be successful and evolved over the years, bringing more synergy between the Internet Exchange and interconnection services.
Episode 2 : CEO of DMEC about energy grid and opportunities in The Hague.
Britta Schaffmeister, the CEO of Dutch Marine Energy Centre (DMEC) is talking about her diving passion, energy grid and opportunities for the marine energy sector at Campus@Sea in The Hague. 
The Zeeland Tidal Power partnership consists of the companies Hillebrand, Istimewa, DELTA Energy, PZEM, Zeeuwind and Tocardo. Since 2016, the first tidal installation has been operational in the Eastern Scheldt Storm Surge barrier.
This first tidal power plant in the Eastern Scheldt Barrier, part of the Deltaworks, is the largest tidal energy project in the Netherlands as well as the world's largest commercial tidal installation of five turbines in an array.
Episode 1 : Ali Najafbagy, building rockets and his choice to live in The Hague
Ali Najafbagy, is the co-founder and Managing Partner of 4impact, a venture capital fund investing in Dutch digital tech4good start-ups focusing on societal and sustainable impact and financial return. 
4impact currently has five portfolio companies with more to come: 
Envision: speaks out the visual world for the blind and low-vision users.
Solar Monkey: delivers software that increases the efficiency of designing, installing and monitoring solar systems.
Satelligence: enables sustainable production with satellite technology and supply chain data.
Equalture: helps build diverse and successful teams through objective and predictive hiring technology.
The Fabricant: develops 3D digital fashion for companies and consumers replacing physical clothes and reducing pollution and CO2.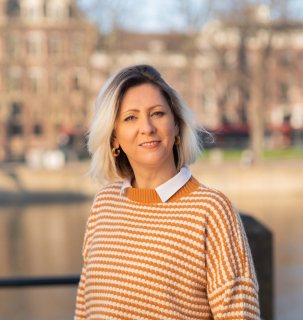 Got a question?
For any questions regarding these interviews, please contact Luba Fateeva - l.fateeva@thehague.com