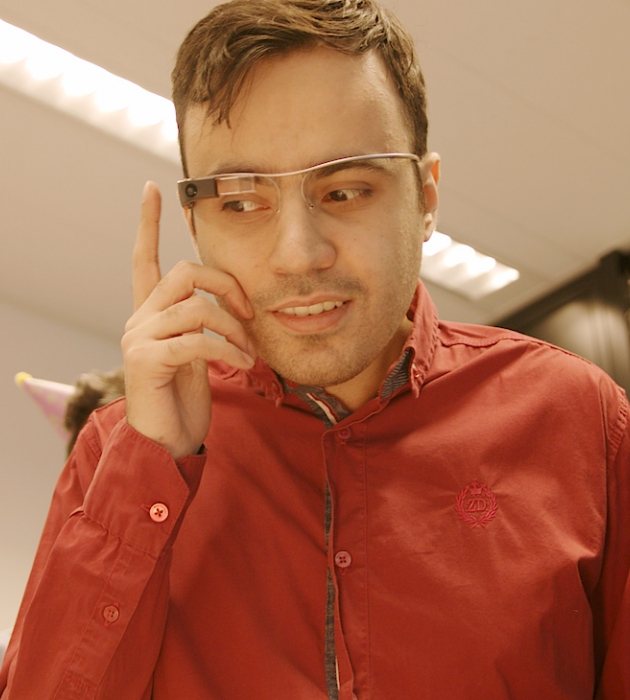 Helping the World to See
How Karthik and Envision Are Providing Independence for the Visually Impaired
Karthik Mahadevan has always had the entrepreneurial "bug" as he describes it, from building apps to following the journeys of fellow entrepreneurs. By trade, Karthik is a designer. After traveling back to his home country, India, for vacation he was invited to a school for the blind and visually impaired to talk about his job as a designer. Karthik describes his job as someone who solves problems, an apt description of both a designer and an entrepreneur. After his talk at the school for the blind, he asked the kids "If you were a designer, what would be the problems that you would solve?". The answer he got from the kids would be the start of his journey from designer to entrepreneur. The kids wanted to be more independent, to be able to go to school, play with friends, and read a book. So much of the information in our world is visual and after researching the top of independence, Karthik came to the conclusion that 'independence' for the blind and visually impaired means access to information.
Karthik was a student at TU Delft where he would begin researching how to increase independence for people with a visual impairment. Going beyond research, he built an MVP (minimum viable product) that was the beginning of a solution that Karthik hopes will help millions of people around the world. Realizing the value in the product that he had created, Karthik knew he needed to get it "out in the hands of everybody in the world, as it is intended to be." This required a business model and what Karthik refers to as the start of his entrepreneurial journey. He found an incubator within Delft, YES!Delft, and started on production. This is where Karthik's company, Envision, had its beginnings and where it is headquartered now at YES!Delft The Hague.
When asked what Karthik's biggest mistakes as a CEO and entrepreneur were, he noted that most mistakes were made within the commercial part of the process. "We knew how to design a product, but not how to sell it – a skill that is equally important [to building the product]." Karthik and his co-founder are a designer and an engineer, important pieces to the puzzle but not the entire picture. Included in these mistakes was hiring the wrong people, such as self described "growth hackers" whose efforts ended up nowhere. However, any mistakes along the way have not dented the grandeur of Karthik and Envision's vision.
Karthik's vision for the future is the integration of cameras and AI for vision augmentation. Karthik wants every camera to be able to use their software to augment human vision both for the blind and to enhance the vision of everyone. He believes smart glasses (such as what was popularized with Google Glass) will make cameras that can enhance vision a commonplace thing. Using AI, Envision can turn text into speech, describe your surroundings, find objects, recognize faces and so much more. Envision's own smart glasses are launching soon and can be found here. 
Envision is truly an inspiring company and it's easy to see how Karthik is motivated by the experiences of their users. Hearing things like "I was able to read a book to my son for the first time," is what keeps the entrepreneurial cogs turning and what is turning Envision into a must-watch company of the future. As a relatively young company (less than three years old), Karthik's biggest challenge is still managing people with the admirable goal of continuously answering "How can I make it easier for my team?". Karthik's commitment to the physical and mental health of his team is a testament to not only a company with a positive mission, but an entrepreneur with a positive mission and attitude.