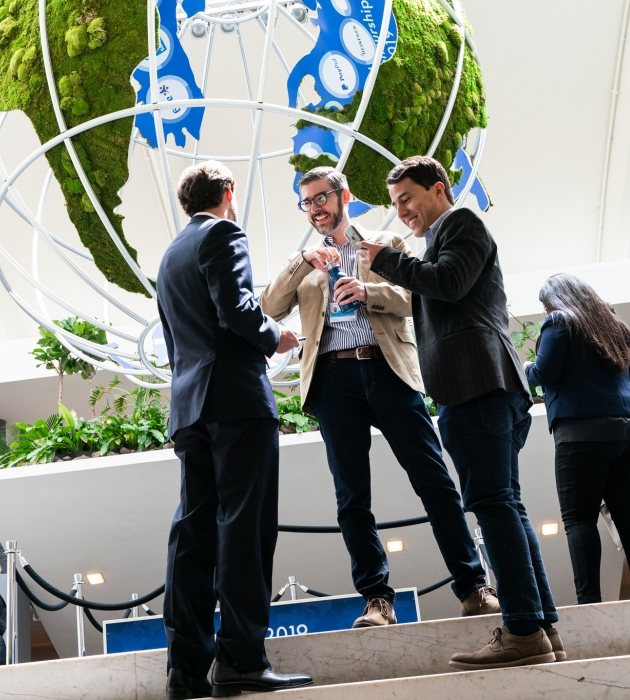 GovTech - a vaccine against Bureaucracy
The Netherlands is a leader in the world for public service, so how has the country adapting to the growing trend within GovTech? Our latest article gives on overview of GovTech developments happening around the country. And more specifically, it shows why The Hague is positioned to lead both the Netherlands and the world in GovTech innovation.
Introduction
The word "bureaucracy" conjures up long queues, piles of forms, unresponsive public servants, and huge frustration. It was coined a couple of centuries ago to describe how the public sector functions, or malfunctions. This plague has infected the private sector too, with no benefit to the corporations who adopt cumbrous and meaningless activities that detract from their bottom line. In our rapidly changing world, there is no place for it. Strategy guru, Gary Hamel, has spoken out strongly against bureaucracy, calling for an end to unproductive work.
When it comes to the public sector, deep-rooted bureaucracy has to go, and fast. It is said that smart cities (and smart nations) need smart and active citizens. Equally, a city cannot interact with smart citizens using dumb and antiquated processes. There is a pressing need to digitize government at all levels, and this is achieved via a relatively new technology niche, GovTech, which is a customer-centric and responsive approach to governing.
What GovTech helps to Address
The World Bank has recently released a Maturity Index (GTMI) for GovTech, assisting both governments and those seeking to develop GovTech solutions. There are 4 key focus areas:
 Support of Core Systems
The operations of most public entities are not transparent and their departments and sectors operate in silos, with no integration between them. This happens even where huge investment has been made in ERP (enterprise resource planning) systems and creates frustrations both for citizens and for employees working there. Government spending and abuse of taxpayers' money is notorious in many countries, not just in developing countries. The Covid-19 pandemic exposed cases of PPE corruption across many countries, with wasteful expenditure, scams and dubious deals. This was facilitated by a combination of weak procurement and financial oversight. A viable and mature GovTech solution requires a "whole-of-government" view, with a shared platform and interoperability.
 Improved Service Delivery
The modern citizen does not want to cope with endless form-filling, lengthy queues and slow solutions to mundane activities like renewal of motor vehicle registrations or passports, voting, and problems with municipal services. The ideal is a "one-stop shop" for all interactions with a municipality or a government, but, with the exception of Estonia, of which more later, very few countries are up to speed in providing simple and accessible services. 
Citizen Engagement
Traditionally, communication between public bodies and the citizens has been a one-way affair. Obtaining feedback from the people who pay for their services is rarely a preoccupation with governments, except when elections loom. The worldwide adoption of mobile phones provides a cheap and nimble way of opening a two-way conversation with constituents, as well as a valuable way of collecting data for sentiment analysis. The ability to react swiftly was demonstrated when the World Health Organization adopted an existing  Covid-19 response app that took 1 week to modify for the WHO's requirements.
 Building eGovernment Competence
The fourth focus area defined by the World Bank is the building of competence in digital skills and using the new automation to provide the services among public servants. Change management is required to foster innovative ideas within the sector.
This is not an overnight change, and is illustrated in the maturity model below.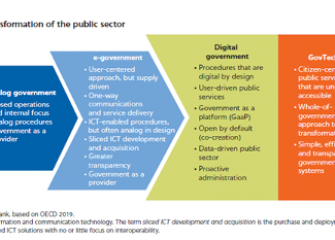 A New Model of Government - e-Estonia
Three decades ago, Estonia became independent, and shortly after that laid the foundations for digital government. In a 1994 paper, the principles for adopting technology when half the country did not have a phone may have seemed overambitious, but progress was so rapid, that by the turn of the century, Internet access was declared to be a basic human right. Initially, the government platform, X-road was launched in 2001, but after a cyberattack in 2007, the move was made to their KSI-blockchain, providing all the transparency without cyberthreats. Today, anyone in the world can become an e-citizen of Estonia, for a reasonable fee.
The Netherlands' Approach to GovTech
As a recognised leader in dedicated public service as well as an authority in jurisprudence, the Netherlands has been quick to adopt a GovTech strategy. The "Dutch Digitalization Strategy" was published in 2019, which addressed digital government. Advisory company PUBLIC was also asked to write a comprehensive report about the state of GovTech in the Netherlands, which was released earlier this year. Some of the key findings were that there were 412 GovTech start-ups, most of which were based in North and South Holland, and that 3/4 of them had 10 or less employees. Over one-third of these start-ups were focused on social or health care issues.
PUBLIC made a recommendation in the report that The Hague be considered as a GovTech co-working space, recognizing its pre-eminence in international governance. The recent appointment of a GovTech Professor at TU Delft is a contribution to making this reality, followed up by the decision to hold the 2021 GovTech Summit in The Hague.
Gaining the necessary Skills for GovTech
Creating a GovTech solution requires a dual skills base; understanding public administration and understanding how GovTech enables e-government. South Holland can provide learning opportunities in both areas.
Erasmus University in Rotterdam offers a Masters programme in Governance and Management in the Public Sector, which examines the current challenges in the public sector and finds new solutions. Research is done in the Governance Labs and there is international collaboration.
For those who prefer the technical approach, TU Delft has recently appointed Nitesh Bharosa as GovTech Professor, in association with DigiCampus. Professor Bharosa sees the opportunity for the University and Digicampus to build an enabling framework for public-private participation, helping the public service to adopt GovTech solutions delivered by SMEs and startups.
Technologies for GovTech
Blockchain is an obvious choice to ensure transparency and build trust. Many of the other technologies are found in the Smart City space, especially IoT, where sensors can be used in every area of city life, from measuring emissions to managing autonomous vehicles. Such sensor data is ideally managed via edge computers and can be fed into the city's digital twin, enabling real-time city management.
Artificial intelligence and machine learning form part of the mix in a variety of ways, from analysing IoT data such as pollen count or water quality, to assessing anonymised social media posted by citizens on Twitter, Facebook or other platforms and providing sentiment analysis. The rise of the mobile app, or use of Whatsapp also provides a handy tool for the citizen to communicate with the city or country about everything from a pothole or requesting emergency services, to voting electronically.
So Many Challenges to Overcome
The year 2030 is rapidly approaching. This is the due date for the Sustainable Development Goals. There is not one of the 17 goals that does not touch on or interface with one or more arms of public service, and so much remains to be done.  Although there have been developments in many areas of sustainability and human rights: 
One billion of the world's population do not have any form of

identity

Another 3.4 billion people have an identity that does not give them

digital access

.

Four billion people do not have a

recognized address

.
This is why GovTech is so critical. It is also predicted to be a very large opportunity for start-ups and tech specialists to come up with radical ideas to close the gaps. At the first GovTech Summit, held in Paris in November 2018, Chairman Daniel Korski announced that the estimated worth of the sector by 2025 would be $1 trillion. The Hague is positioned to lead both the Netherlands and the world in GovTech innovation. Recently, the 2021 GovTech Summit "Build Back Digital" was hosted in The Hague and there are more and more GovTech related events around the city every month.