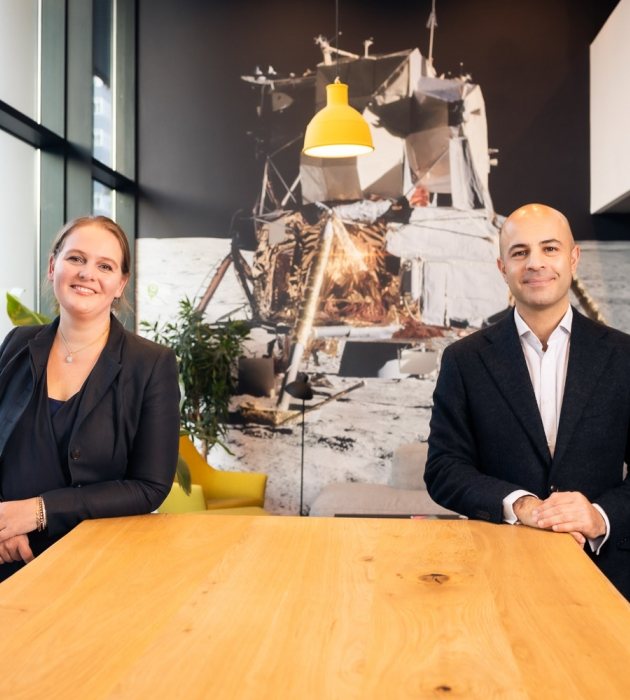 From Goldman Sachs to Impact Investing
Ali Najafbagy, is the co-founder and Managing Partner of 4impact, a venture capital fund investing in Dutch digital tech4good start-ups focusing on societal and sustainable impact and financial return.
Early in 2021 Ali gave an interview to The Hague & Partners where he shared his story about his journey and the start of 4impact. When talking to Ali it is very easy to notice how much he and his family enjoy the quality of life that The Hague offers. Ranging from the high quality and quantity of schools to the wonderful beaches, parks and cultural activities. Outside of family life and work he is an avid outdoor sports fanatic on land, mountains and water. The mountains have been put on hold, but his mission has not: to invest in a better future with 4impact.
His impact investment journey was inspired by the work of Mubadala Investment Company in Abu Dhabi where Ali worked for 7 years in senior positions– "Amongst other sectors, Mubadala was and is investing heavily in renewable energy, in education, and in health care, locally and internationally. And this light bulb went on that said, with the skills that you learned in investment banking, you can also really do business and do good, which is the great slogan of The Hague and Impact City". This revelation turned into the idea of utilising the twenty years of experience and work along the slogan of doing good and doing business in setting up venture capital fund 4impact.
Together with his former colleague from Goldman Sachs, Pauline Wink, they co-founded 4Impact in 2019. Ali shares that neither Pauline nor he feel like they are working, "I do this because I'm passionate about it, and I know that Pauline feels the same way. You either feel it or you don't, it's binary. That feels really great and it gives energy, it is why I'm happy to be here to talk about it and help those entrepreneurs make positive impact". 
In addition to the family and personal benefits, The Hague is the European centre for impact investing. Called Impact City, The Hague is an ever growing social, digital, and physical library of impact knowledge including organisations such as FMO, RVO, the DRK Foundation, The National Advisory Board of Impact Investing Euclid and EVPA. The city has a unique mix of government organisations, policy-makers, companies, entrepreneurs, a variety of schools, and a strong community of international and talented expats. Ali highlights the importance of these stakeholders for innovation and impact investing.
Existing and future investments
4impact currently has five portfolio companies with more to come:
Envision

:

speaks out the visual world for the blind and low-vision users.

Solar Monkey

:

delivers software that increases the efficiency of designing, installing and monitoring solar systems.

Satelligence

:

enables sustainable production with satellite technology and supply chain data.
Equalture

:

helps build diverse and successful teams through objective and predictive hiring technology.
The Fabricant:

develops 3D digital fashion for companies and consumers replacing physical clothes and reducing pollution and CO2.
Venture Capital is a volume driven business, but quality is what counts. 4impact assesses a high number of deals every week. Being a data-driven company itself, 4impact uses a scoring grid based on 9 criteria including: team, impact, tech, scalability and others. If the 4impact team believes there is a match via desktop research, a (virtual) meeting is arranged to meet the founders and learn more. Depending on the meeting next steps are considered.
In addition to the full-time team members, 4impact has an Advisory Board and dedicated Venture Partners on tech, impact, execution, legal and operations. But there is more: "The fun part of our job is that we feel that we are always part of a much bigger team working so closely with the talented entrepreneurs. The same goes for other VCs that we co-invest with." says Ali.
Looking into the future, Ali is keen for 4impact is to attract the best entrepreneurs to work with to achieve maximum local and international impact combined with the right financial returns. To achieve this, 4impact looks to partner with global (tech) companies, universities and government entities.
Ali is currently writing a biography about his father and hopes that one day one of his children will do the same."It is an incredibly rewarding and emotional journey and I look forward to writing my mother's biography next".