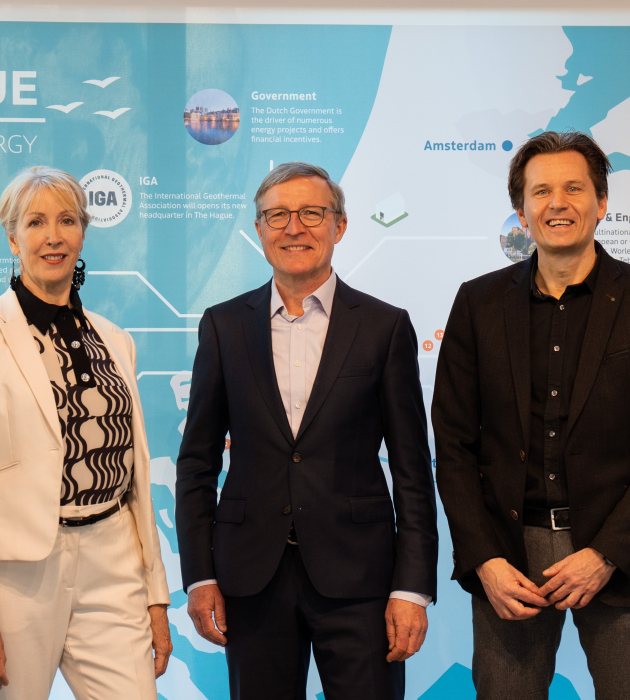 "Geothermal energy is one of the silver bullets to accelerate the energy transition"
Combatting climate change requires accelerated transition to renewable energy sources. The war in Ukraine highlights another reason to speed up the energy transition and wean Europe's dependence on gas. Energy from geothermal heat will play an important role worldwide, and this became evident during the Geothermal Conference in The Hague.
On March 9th 'Experience Geothermal The Hague', an event took place. "The war in Ukraine shows that we have to get rid of fossil fuels as soon as possible," said alderman Liesbeth van Tongeren in her introduction. Sandor Gaastra, Director General of Climate and Energy at the Ministry of Economic Affairs and Climate Change, responded: "Europe needs to become less dependent on Russian natural gas quicker. I think geothermal energy is one of the silver bullets to accelerate the energy transition. In the Netherlands, geothermal energy is essential to get 1.5 million homes off the gas by 2030."
This approach is popular not only in the Netherlands. In Geneva, a city with 500,000 population, geothermal energy is central to the energy transition. According to Marie Lecompte, head of geothermal projects for the Swiss city, the policy is to be climate neutral by 2050. Today, the heat supply still consists largely of gas-fired plants, Lecompte said at the event. "Since 2014 we have had a program to set up geothermal projects," she says.
Really large-scale is the approach in China. Founder Haukar Hardarson of Arctic Green Energy tells the audience about his company's huge strides: "We have projects running in 70 cities, we have drilled 800 wells." Meanwhile, the company, which claims to have a 35% market share, has more than 2 million customers. In 2021 alone, Arctic Green saved 4.2 million tons of CO2 emissions, Hardarson says. "Geothermal has become mainstream in China." Europe, according to Hardarson, should not be afraid to get geothermal off the ground with solid subsidies. "That's what has been done with solar and wind, and it's been a great success."
Denmark is also pushing forward. Aarhus-based Innargi focuses entirely on geothermal energy. "In our business model, we assume all risks, both in the development phase, the construction phase, and the operation phase," says CEO Samir Abboud. That integrated approach allowed Innargi to create scale and reduce costs. "That was necessary to be able to sell heat at competitive rates."
Progress is also being made in the Netherlands. Last December, the company Haagse Aardwarmte put a geothermal plant near the Leyweg into production. Now that that first project is up and running, the company is ready for the next steps. "We have developed a comprehensive master plan for the entire Hague region," says Jan Willem Rösingh of Hague Geothermal.
To begin with, the company has created a 3D model of the subsurface. "In the Hague region, there is a potential to develop 18 'doublets.'" A doublet is a set of two wells; one to pump hot water uphill, the other to inject the used and cooled water back down. The Hague Geothermal sees Eneco as the perfect partner to lay the necessary pipes and deliver the heat to the final consumers. Jinny Moe Soe Let, 'City Manager Heat The Hague' at Eneco: "With Eneco we have an ambitious goal. We want to be climate neutral in 2035." Many companies have goals for 2050, observes Moe Soe Let. "That feels far away. While for 2035 we need to get to work today." Eneco wants to take steps quickly. "We already supply heat to the King's Palace," she says with a wink.
You can watch the recording of the livestream here.