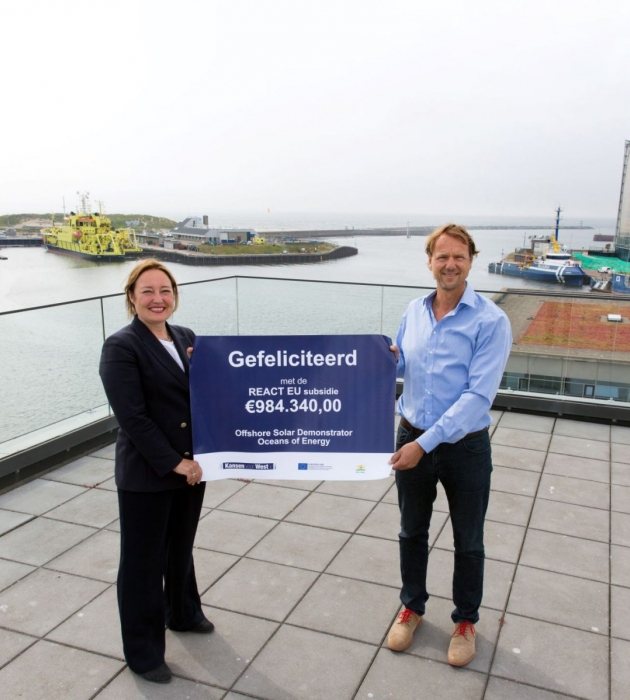 Floating solar park in The Hague
Oceans of Energy is the first company to install and operate an offshore solar system in high wave conditions in the North Sea. The company's vision is to deliver offshore solar farms to coastal areas and islands, bringing abundant, clean and affordable energy worldwide. Oceans of Energy has survived several storms, including Ciara, Dennis, Bella and Evert, ever since its deployment in 2019 and proved their technology to be successful.
The company is currently working on delivering a unique, floating solar park in The Hague at its Campus@Sea part of ImpactCity. Oceans of Energy initiated this project to contribute to achieving sustainable energy aspirations worldwide without increasing pressure on scarce land. 
"Our solar park is unique in the world today. The overwhelming interest that is shown in our project is our proof. If we manage to start using the sea far more efficiently, we will relieve the resistance that energy generation on land tends to encounter. It makes our project a powerful business case." says Allard van Hoeken, CEO at Oceans of Energy.
In due time, the solar park can be scaled to a capacity of 1,000 megawatts, which equals the energy supply of 300,000 households. With the offshore solar demonstrator, Oceans of Energy will prove that the city of The Hague can acquire the bigger part of its energy supply by using the sun at sea, making it possible to supply The Hague with energy been generated entirely at sea.
The municipality of The Hague supports projects similar to  Oceans of Energy projects and helps them to expand, facilitating a sustainable economy and new energy in the city.
"Oceans of Energy is experimenting with a potentially ground-breaking resolution to one of the greatest challenges of our day and age. The project fits The Hague's ambition to be energy neutral in 2030 and perfectly fits our ImpactCity ecosystem. We will keep a close eye on the developments and have great expectations.", Saskia Bruines, Deputy Mayor of The Hague, states.
With projects like this, the campus at Sea in Scheveningen is becoming a central place for new energy innovation open to newcomers dedicated to innovation and sustainability.