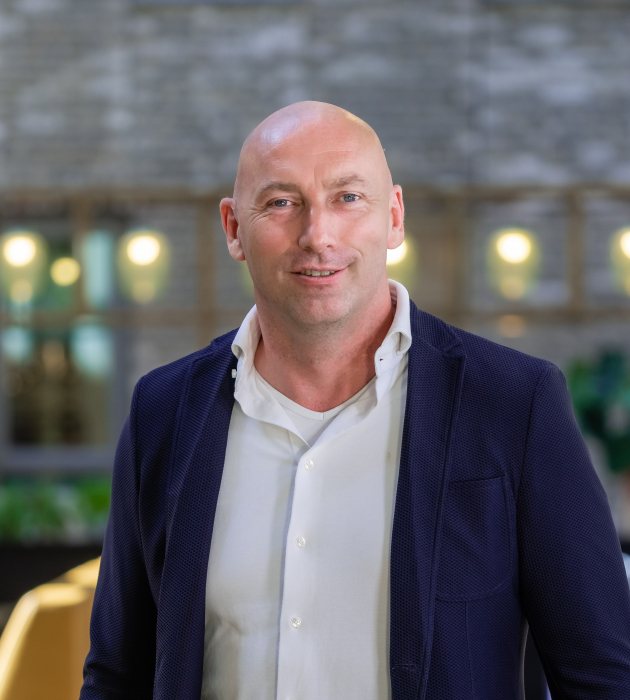 De BeleefTV - interactive board games for German elderly
De BeleefTV is a digital game table intended for seniors with dementia. It looks like a large screen with interactive games, music, photos and videos that activate memories and stimulate brain activity in the elderly. After a successful campaign in Belgium's Flanders region, the company from The Hague took took a step across the other border to Germany. But not without help.
Dennis de Wit registered in 2018 for the Germany pilot project of the municipality of The Hague. The program gave him the right tools to become successful in Germany as well as in Belgium. He now hopes to achieve the same success in Great Britain. Because De BeleefTV has again registered for the IMEC process. In this interview, he looks back on the period of their first participation.
Opportunities across the border
A successful entrepreneur is constantly on the lookout for new opportunities. Setting foot in a new country presents plenty of space for exploration and business growth. "A while ago, we started in Flanders, where we discovered that the Flemish market is really different from the Dutch one," says Dennis. "In the Netherlands, we ran a campaign on Facebook that allowed healthcare workers to indicate whether they wanted a free trial placement. That yielded hundreds of leads. But exactly the same campaign did nothing at all in Flanders."
Learning from his previous mistake, Dennis was determined to do thorough research before launching in Germany. Doing a pilot project through IMEC was a good starting point. It enabled De BeleefTV to explore the best approach for a successful market entry in Germany.
A German language course
Very early on, Dennis recognized the importance of learning the local language. Germans highly appreciate the effort: "We took a language course with the entire team so that we can address people in German in the future".
But it's not just about language: "a lesson from our experience in Belgium was that we also have to translate the activity tables properly. The children's songs that people can choose must naturally be German and sung by a native speaker. We also collected German proverbs. And the pictures for the talk plates had to be remade: they have to be recognizable German locations," recounts Dennis. His team managed to address all the final details.
"We took a language course with the entire team so that we can address people in German in the future"
- Dennis de Wit, De BeleefTV
Near the fire
After a few months, all changes in the software had been implemented, and De BeleefTV was ready to be tested. The next step was to bring the product to Germany and have the first talks with institutions and potential sales channels. The goal of doing the first trial placements for the modified game tables two months later was successful.
Having been offered a suitable office place in Germany at Fraunhofer inhaus Zentrum in Duisburg largely contributed to his accomplishments. "A hospital and nursing home of the future has been set up at this location, where institutions can find inspiration. A nice place where we were given desks and meeting rooms. We shared this visiting address with other Dutch startups".
Separate shoes
The first visits to locations and fairs meant that Dennis again had to deal with the cultural differences. "I was a bit out of touch with my colourful trainers between the German, wearing suits and black dress shoes. That makes you doubt for a while because many people told me that I had to adapt. I now know that it is mainly about being aware of the differences but still keeping your own identity."
And that means that Dennis now also dares to be late for appointments. "I regularly arrive a minute late for an appointment and then being called out: 'You already knew you had an appointment, Dutchman'. The most important thing is that you respect their thinking. You don't become a real German."
Three important lessons
Stemming from their previous experiences in Belgium, the following three lessons stood out for De BeleefTV before entering the German market:
Know your audience
Even though both countries are neighbours of the Netherlands, the cultural differences cannot be more apparent. Foolproof techniques might not go well with the local business mentality. Therefore, De BeleefTV advises thorough research instead of jumping in at the deep end. 
Learn the language and culture
Learning the target country's official language and addressing the locals in their tongue is always well-received. De BeleefTV has also adjusted all its functions to fit well with German culture. In this way, songs are sung by a native speaker, the game table uses German proverbs and refers to widely-recognized locations.
What also works well is hiring someone local in Germany. That provides further awareness of what is going on. Especially in the recent period with Covid-19, it was valuable to have German team members who knew what was and was not possible.
Politeness over informality
The Dutch are famous for their directness and friendliness. However, if you want to save yourself a 'faux pas', opt for a more formal approach preferred by both Belgians and Germans. Dennis advises you not to forget the 'Herr' or 'Frau' when addressing your business partner.
The support of InnovationQuarter
The Hague Business Agency and InnovationQuarter offer SMEs from the Hague region a route to make a flying start on the international market: IMEC (international market entry coaching). Read more about it here.