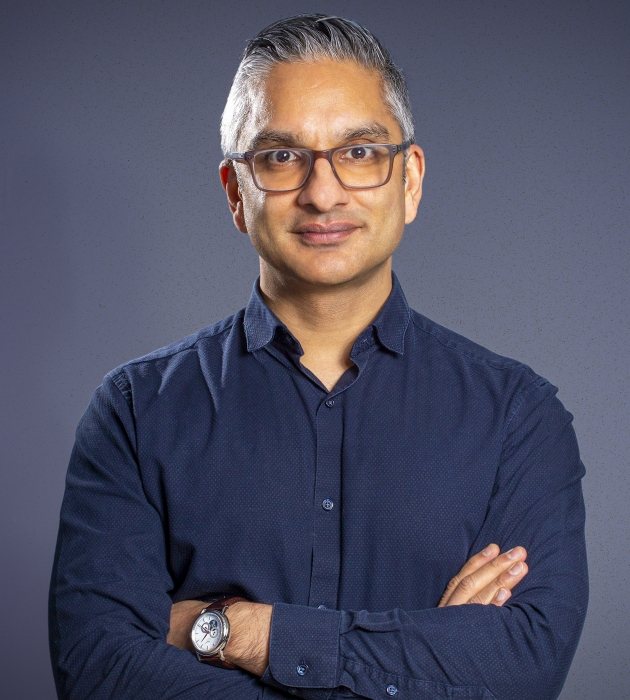 Cyber Security Compliance through Positive Psychology
Serial entrepreneur Vadim Lazuko and his companion Ammi Virk are based The Hague and are working in the co-working space at The Hague Tech – a community and platform for technical innovators - where they were introduced to each other. It was a successful match and driven by the great amount of positivity between the two, their ideas led to the establishment of a new company in less than three months. Having teamed up their strengths and by setting up Isuna, they now provide compliance solutions and training through an approach of positive psychology to raise knowledge and awareness in complex regulations with the objective to make it simple for people. "People find cybersecurity scary enough anyway".
Ammi is a qualified trainer with a main background in law . He has worked for police organisations in the UK an internationally on major investigations. He has also trained intelligence analysis to investigators and analysts from Europe, the MENA region and Asia. He has experience in the application and assessment of cybersecurity on a practical and theoretical basis. Ammi wants to merge this experience so that businesses can be more compliant to regulations and resilient to threats.
Vadim is a serial entrepreneur with several companies providing products and services for events, exhibitions, travelers, museums and governmental organizations. He has a vast experience in information technologies and MBA degree from Vlerick Business School. Working experience covers all sizes of companies from startups to UN organizations.
Focus of the Dream Team - Team Focus
Complementing each other has resulted in the outstanding formation of a dream team. Ammi is an instinctive person, Vadim has a more pragmatic approach. Having combined their skills, knowledge and experiences, these two entrepreneurs aim to change the landscape of people's approach to compliance of complex regulations.
Their ambition is to develop strong partnerships and relationships with big businesses, but also with their clients by personalizing their services. Asking questions like "How can we help you?" and "What do you need from our platform?" is what the entrepreneurs have been doing for the last year. "We've really been learning by testing, experimenting and talking."
Today their company is serving private and public players in the national and international community. One of those national players is the NEN, a Dutch institute that is focused on connecting parties and stakeholders in the process to reaching national and international agreements in standards and guidelines. The conversation was initiated between the two parties around June 2020, and both noticed mutual interfaces and excitement. "They [NEN] had an innovation lab and the people that I [spoke to] had the same mentality. They wanted something that would help their companies, but also something that was very positive for their clients." The institute was impressed by Isuna's approach about knowledge, awareness, positivity and helping companies understand complex issues in simple ways.  The Isuna and NEN partnership will promote the cybersecurity and data privacy platforms directly to NEN members.
Both Vadim and Ammi drive and thrive on the feedback they get from their clients and partnerships. "We all know it is a pain to have to be compliant to complex regulations. I love complex things, and I think that the process we choose to solve it with is exciting. It is what keeps me moving there: it is really helping people", indicates Vadim. "When they [clients] see how it is implemented, and say: "Wow, that is really what I need".
For Ammi it is about "knowing that we can achieve a lot. The feedback has always been very positive, and even when it's critical, we can adapt and change and work on it quite quickly as well." Additionally to that, both hope to change the sector for the better by a disruptive approach based on communication. "The key about Isuna's platform is that it isn't just a one to one relationship, but [it is] about building communities within that sector". Ammi points out that cybersecurity and data privacy could be perceived as very "isolating" areas. They want their clients, from companies to organisations, to communicate with each other as strategic partners. This should results in a cheaper solution in the long run and is exactly the value that Isuna aspires to deliver. Just as the case with a supportive hub like The Hague Tech, "it's all about connections, meeting new people, discussing ideas and sharing solutions", says Ammi.
Besides the challenges of homeschooling Ammi's children, the corona virus has had a minor impact on Isuna's operations. However, it has caused a shift in the company's vision. Based on the clients' feedback the initial focus of developing software platforms for complex regulations in cyber security has shifted to new opportunities to use the software for other protocols as well. This development led to a partnership in developing GDPR regulation about data privacy. Current situation in the hospitality sector has inspired Ammi and Vadim to develop software and an application to serve this industry with compliance and resilience to COVID measurements. This change is still in line with the general approach and with the company's mission to get people on board by focusing on the positive side of compliance, making it simple and guiding them with knowledge and awareness. "It's a very small investment to become resilient or capable of meeting a regulation", says Ammi, "It gives them a lot of value, but also a lot of power to stop bad things happening to them". 
As Vadim states: "I think partly it's to do with luck, passion, energy and being in the right place at the right time", but also, "The main thing is positivity and keep trying when you aim to become a successful project company".  A matching drive and equal excitement by an approach of positivity is what connects and enables this promising team to reduce the complexity around regulations, and to conquer the world with a bashing amount of positivity.