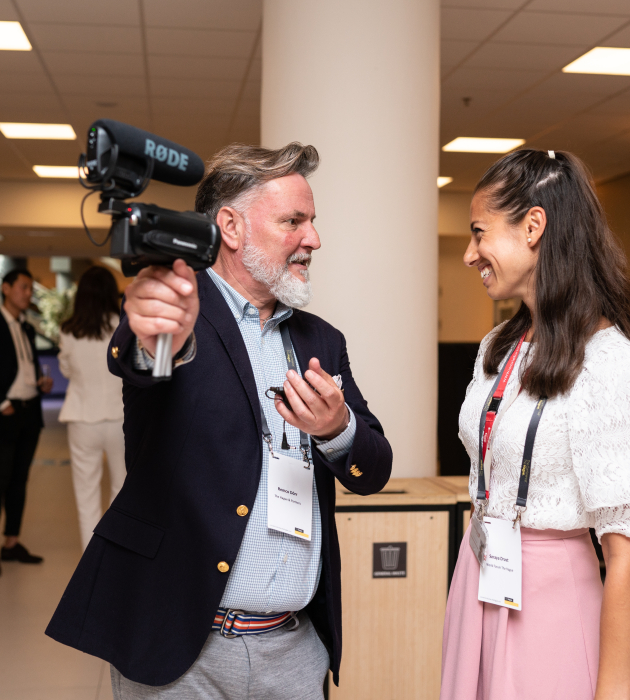 Five ways to engage with your audience on the event itself through social media.
Engagement. A word that we hear in the events industry for years now. This word especially became popular during the rise of the pandemic, when hybrid and virtual events were the only events we could organize. "To make your event succeed it is important to engage with your audience." Sure… Gladly. But how do we even create engagement? An important feature that can help you along the way is social media. Here are five ways to engage with your audience at the event through social media.
1. Use hashtags, especially on Twitter.
Using hashtags, such as #ImpactFest2021 will help you reach your audience and will also make it easier for them to find you and engage with you. During the event, you can share event highlights, important quotes of speakers and pictures so everyone will be up to date on what's happening through the hashtag. Make sure to promote your events' hashtag days before the event starts.
2. Share live pictures and videos of the event.
Through Instagram Stories you can share pictures of attendees, snappy videos of the event venue and short interviews. This is great for engagement as others can comment and share them in their own stories (if they are tagged). It is also highly recommended to get a professional photographer on board who can take pictures of the attendees and share them. You could even decide to install a photobooth where fun pictures can be taken. These pictures can often be automatically shared on the events' social media.
3. Contests.
Contests are great for engagement on your social media channels. At the start of the event, you can ask the event attendees to participate. An idea: ask attendees to take pictures during the day and share their favorite one on their social media channels. If they tag the event and include the events' hashtag, they get a chance to win a prize. A potential prize: the person with the best/most original picture can win a bag filled with goodies. Contests are also great to attract people to your event. Read more about this in our recent article.
4. Use interactive discussions during the session.
This can be done through Twitter or Instagram stories. Ask easy questions on the channels, such as: 'do you agree with what speaker A just said about…?' and ask them why or why not, or 'are you enjoying yourself today', (a) yes, (b) no. Menti and Kahoot are also great online tools for interactive discussions and quizzes.
5. Instagram Live.
With Instagram Live you can stream live videos to your followers through their Instagram Stories. It is a great tool for building engagement, connecting directly with your followers and to share your latest news. During breaks, you could decide to do a Q&A with speakers or attendees. Ask them if they have questions about the event, how they like the event, where attendees are going next etc.
Eager to learn more about your event options in The Hague?
The Hague Convention Bureau is helping associations and event organizers access The Hague's knowledge and event infrastructure with many international organizations and companies as well as world-class event locations. Get in touch via conventionbureau@thehague.com to become familiar with our free of charge services.