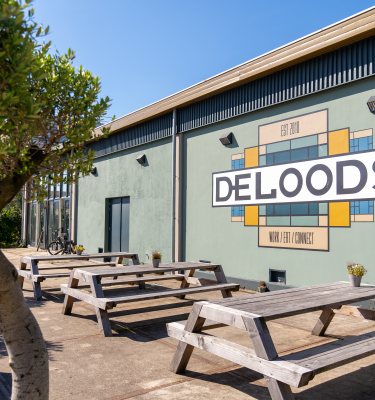 De Loods
Looking for an inspiring location for your seminar, conference, expo, workshop, training or meeting? De Loods in Rijswijk, next to The Hague, has spaces available for various group set-ups. We will gladly look at the possibilities with you.
The venue
De Loods is the ecosystem located in the Plaspoelpolder in Rijswijk, bordering The Hague and Delft. The location is centrally located, making it easy to reach by both public transport and by car. In addition, De Loods has 50 parking spaces and charging facilities for your electric car. Within the ecosystem, cooperation and strengthening each other are central. In addition to booking various spaces within the location, a number of companies are located here and it is also possible to rent a flexi-place. De Loods has different types of spaces available.
Meeting rooms
The Upstairs Room
The Upstairs Room (for the pictures, this is the living room setting for 4-6 people). This cosy space is located in the office portion of the building and can accommodate up to 6 people. It is an excellent space for a consultation or private meeting. The room can be equipped with an LCD screen, and catering for the meeting or consultation can also be booked.
 
Karpuzov Room
The Karpuzov Room (for the pictures, this is the room with the big spheres and kitchen). The Karpuzov Room is a generous space with lots of light. It is an excellent location for giving presentations or holding meetings with larger groups. The room is also equipped with a luxury kitchen. This space can accommodate up to 30 people.
Studio De Loods
Studio De Loods is equipped with a green screen and all the facilities to make your online webinar, meeting or presentation a success. This space is fully equipped and it's plug and play.
 
The Loods event hall
The Loods events hall is the location for your event or knowledge session. The event hall has a surface area of about 300m2 and offers space for 100 - 200 people which can be arranged as you wish. We take care of everything and ensure that the space is set up in the way you want.
 
Flex workplaces​​​​​​​
​​​​​​​Within De Loods we also have flexible workplaces. On the mezzanine floor there are several spaces developed. Here you can work with up to 4 people. 
The Ideal Mix
In recent years we have organized various events. From a Smart city event for the municipality of Rijswijk, the launch of an entrepreneurial magazine, various events for education, meetings for small and large organizations, online webinars, video recordings, knowledge sessions for various parties and training courses.