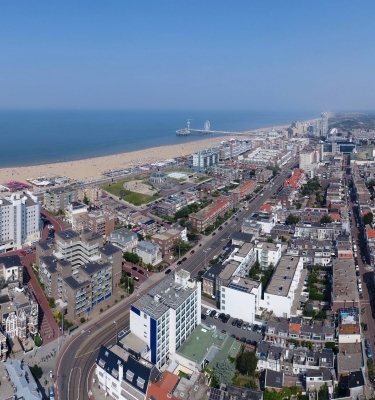 Badhotel Scheveningen
The Badhotel Scheveningen is just minutes from The Hague's International Zone and The World Forum Convention Centre. It offers ample parking spaces and a number of options in terms of meeting and conference room. WiFi is free throughout the hotel and you can relax and recharge in the bar and restaurant.
Venue overview
Capacity

100 people

Covid-capacity

40 people

Meeting rooms

6

Largest meeting room

91M2

Venue style

Business

Layout of the room

Banquet, Cocktail, Meeting, Theatre

Type of event

Meeting, Presentation, Social event
The location
Right behind the Scheveningen Boulevard, at a mere distance of 150 metres from the beach, the friendly 3-star Badhotel Scheveningen welcomes its guests. Scheveningen, known as a popular lively seaside resort, boasts a dynamic nightlife and is proud for its wide variety of restaurants as well as tourist attractions (500 m.) Surrounded by good service, pleasant employees and a relaxed, professional atmosphere, you will easily feel at home here.
Apart from 90, spacious rooms, the hotel offers 6 air-conditioned meeting rooms, an elegant restaurant, comfortable bar/lounge, free WiFi and, a modest private parking place.
Badhotel Scheveningen for your event!
Badhotel Scheveningen is the perfect location to organize a meeting and conference. After the event, there is the perfect possibility to recharge in the bar, restaurant or right at the beach!